Developed by Pixel Crow and released in 2017 for PC, Beat Cop is a game that immediately caught my attention for its beautiful pixel graphics and the premise of putting us in the shoes of a policeman who needs to do his best to unravel a mystery while trying to keep the order in.
Inspired by the police programs of the 80's, in the game we will be Jack Kelly, a former detective who was accused of murder and who will have to patrol the streets of New York while trying to find out how he was involved in this plot. The problem is that for that we will have to deal with a boss who doesn't like him very much, with a complicated wife and the threats of the mafia.
With a non-linear plot, multiple endings and a humor typical of the productions of the time (and that might offend some people), Beat Cop works as a point and click game that initially puts us to perform common tasks of a policeman, such as issuing tickets or arresting petty assailants, but that soon shows how a law enforcement officer can become corrupt.
Imagine, for example, receiving an invitation from a store owner to help you get rid of a body or being pressured by local criminals to ignore evidence of crimes. The situations we will be involved in are often delicate, but unfortunately the writers failed to convey a more concrete message with them.
A positive point of Beat Cops is the way that, even for a title with slower mechanics, it manages to pass a good deal of tension, putting the player to organize their work day and still have to find out who the got in trouble. After all, we will only have three weeks to find an answer to our problem and believe me, this will not be easy.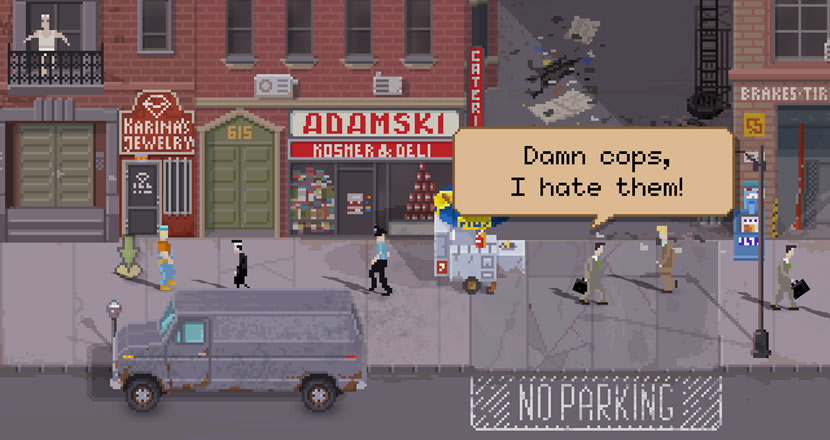 For some, the way the game works can be considered tedious, forcing us to daily fine the many illegally parked cars, but if you can understand that this routine is part of a police officer's life and that it serves to put some pressure on us , it is possible to understand the developer's motivation.
Beat Cops can be summarized as a great management game, where we will have to decide between accepting a bribe or not having enough money to support the house; between stopping for a snack and wasting time or not having the energy to chase a bad guy; between arresting a gang member and risking being branded or turning a blind eye.
Released only recently for Nintendo Switch, PlayStation 4 and Xbox One, I decided to give Beat Cop another chance and I could see that for better or for worse the game is very similar to what we've seen on computers. It remains a game quite different from what we are used to finding out there, with its graphics still boasting an incredible charm and its gameplay able to please some, but annoy others.
So, even with a few glitches here or there, if you've never tried Beat Cop I think it's worth giving it a try, especially if it's Nintendo's hybrid.