It's amazing how the expectation we create (or not) about anything is something that can play tricks on us from time to time. After all, after such a turbulent development, who could expect anything from Sleeping Dogs?
Just to remember the events, he was born bad, being a continuation to the horrible series True Crimes and that was supposed to be developed by Luxoflux. However, the studio ended up closing and the creation passed to United Front Games, until Activision, citing low quality, decided to cancel the production. It turns out that at that time of the championship True Crimes: Hong Kong was almost ready and saw potential there, Square Enix acquired the rights to publish it, just changing its name and investing in polishing.
In other words, we had a game whose franchise didn't attract anyone's attention, which changed developer, publisher and even name, so the recipe for a huge failure was ready, right? For those who thought so (myself included) could not be more wrong.
Since the first trailers began to be released, Sleeping Dogs started to look quite promising, with agile gameplay, beautiful environments and a huge city to explore. I confess that I still had a certain fear of believing too much in something so great coming from a studio that had only released ModNation Racers, but then came the release of the demo and damn, it looked like the guys had really hit it.
Now, with more than 14 hours dedicated to the adventure, I think I can say that the title deserves to be among the best of the year and the main reason to think so is the enormous attention to detail that United Front Games has. Everything in Sleeping Dogs seems to have been thought out with extreme care, from city building to minigames, with a special emphasis on gameplay.
Driving a car or motorcycle in the game is extremely pleasurable, as is participating in gunfights, but it's when protagonist Wei Shen gets into a fight that the developer's work really shines. Although it has a relatively simple system, facing other characters is something that requires the player's attention and agility, even more so when we are surrounded by 6, 7 enemies.
A sample of how attentive the production team was to the fights can be seen in the character's evolution system, which gradually learns new moves or simply in the fact that in most missions we don't have a firearm at our disposal and therefore As incredible as this may seem, they are not needed at all.
Another point where the game shines is in its plot, which starts off a little shallow and beaten, putting us in the role of an undercover police officer, but which over time proves to be very interesting, with a fantastic twist at a given moment and addressing interestingly, the psychological damage done to Wei by having to perform complicated tasks for the Chinese mafia.
Speaking of tasks, Sleeping Dogs presents us with such varied missions that we practically don't see the time pass while we are in its virtual world and if at one moment we need to dismantle some criminal scheme, at the other we are responsible for providing a terrible revenge to a suffering mother. So the game always has something to occupy us and how can we not get excited during the cinematic foot chases or the exotic Triad universe?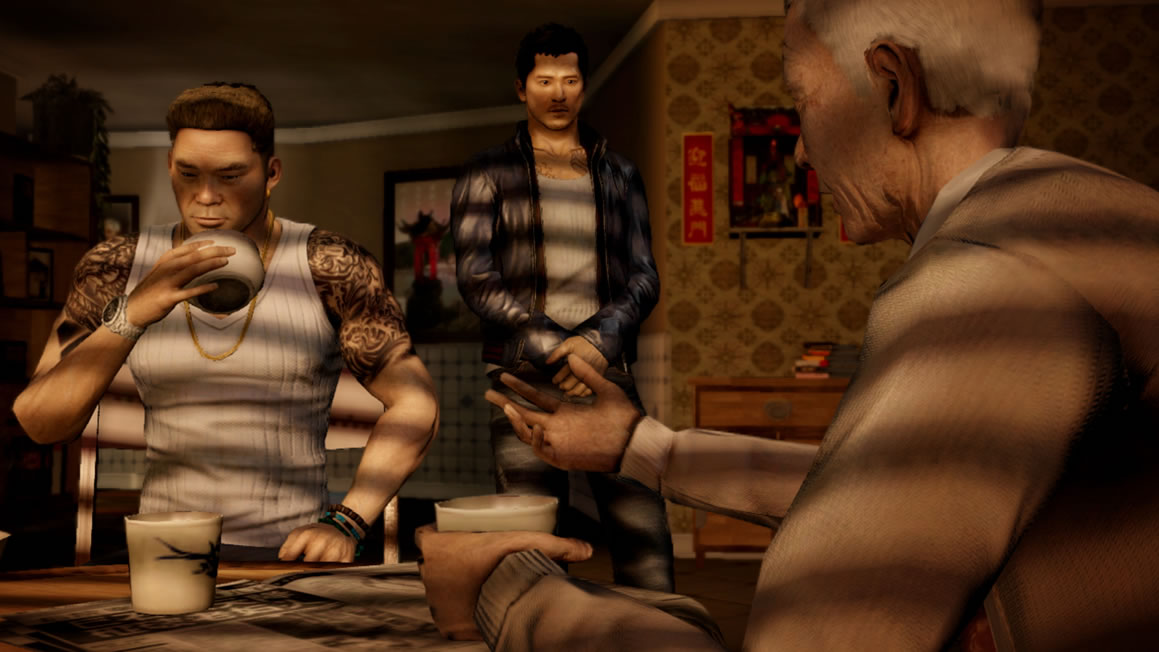 And finally, a curiosity: in case you haven't understood the name of the game, it comes from the proverb "let sleeping dogs lie", something like "don't poke the jaguar with a short stick" or "don't look for scabies to scratch". Well, you know what? I'm beginning to think that's what the Hong Kong police should have done.