I will never tire of expressing how grateful I am for the rise of independent studios and how they have managed to rescue genres that have long remained dormant. One of them was the run 'n' gun games, which were once so well represented by classics like Contra and Metal Slug, and if you were missing something new in this style, let me introduce you to the fantastic Huntdown.
The tactical adventure of Langrisser I & II Don't Die, Minerva! and the roguelike flood
Developed by Sweden's Easy Trigger Games and released for PC, Xbox One, PS4 and Nintendo Switch, Huntdown takes place in a dystopian future where gangs rule the streets. With the Third World War having devastated a large part of the planet, the situation has become so dangerous that not even the police have the courage to face the bandits and that's where a trio of bounty hunters come in: ex-soldier Ana Conda; John Sawyer, a former police officer who received multiple cybernetic implants; and the android Mow Man.
Heavily inspired by the action movies and pop culture of the 80s, Huntdown puts us in a violent world, full of neons and where flying cars became reality. For those who have watched Blade Runner: The Android Hunter, the comparison becomes inevitable, but fortunately the studio managed to give a lot of personality to their creation.
Altogether we will have 20 stages to go through, each of them culminating in a fight against a boss and overall they are quite interesting. Often these battles are concerned with referring to movie characters, such as one that seems to have been taken straight from Terminator 2: The Final Judgment.
However, there is no way to talk about Huntdown and not praise its soundtrack. Being also very responsible for the universes imagined by those works that tried to predict the future, the songs present in the game are very nice, fitting in very well with the visual style, which is certainly another of the game's highlights.
With its graphics having been created by hand, some people do not like this wave of electronic games that adopt the pixel art style, but even if this is your case, there is no way to ignore the excellent work done by the Swedes. In addition to being impressively detailed, the scenes and characters created for Huntdown still draw attention for the fluidity of their animations, giving an incredible feeling of being watching a real animation.
It's really cool to see how enemies die or how our characters respond to their attacks. But remember when I mentioned violence earlier? Because unlike many run 'n' guns of old, here it is explicit, with a lot of blood gushing everywhere and even enemies being set on fire — which is a rather disturbing animation.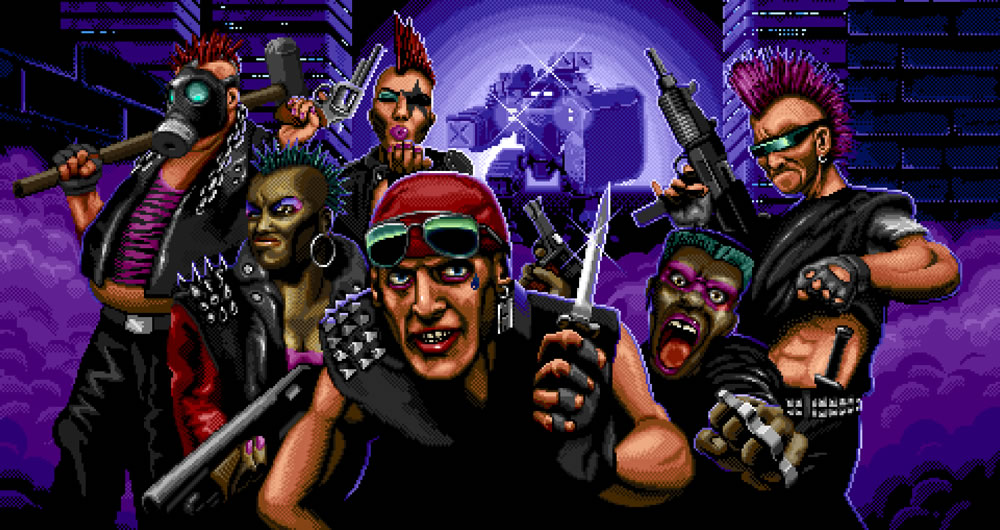 But given those compliments, I still need to mention how much the pace of the game pleased me. Initially I thought Huntdown would be much more frenetic than it really is and although I understand that some might not like this more lilting speed, I loved it.
By allowing us to give a charm slip we are running and even hiding behind some objects (which can be destroyed), the game ends up receiving a layer of strategy that is not common to see in the genres and I thought that Easy Trigger Games got it right by daring break one of the pillars of style.
The downside is the adventure's difficulty curve. In general the stages can be won without much challenge, but there are certain parts where the difficulty escalates very quickly and I have occasionally been forced to repeat these parts over and over again. Luckily the offer of checkpoints is big and when it comes to bosses, they are difficult, but they never gave me the impression of being unfair.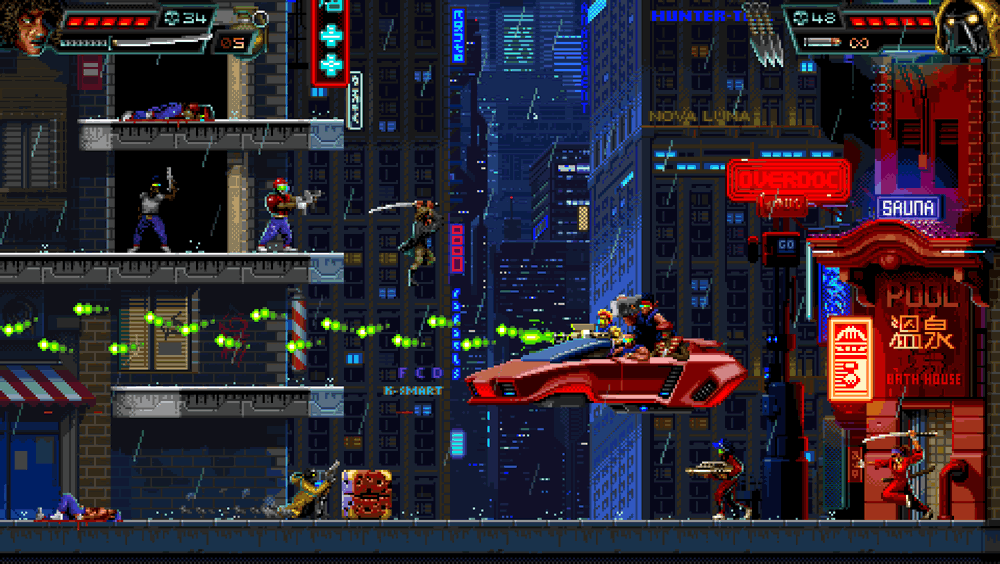 So, whether you are someone looking for a very well finished game, or a great lover of the run 'n' guns of yesteryear, Huntdown could prove to be a big surprise. With lots of content, solid gameplay and still allowing us to play with someone else locally, this is one of the good kids the indies have given us.