Life as it is (or nearly so)
For many people, games are mere hobbies, just a way to escape the real world and take on fantastical roles. I think this line of reasoning is fully valid, but what if, in addition, electronic games can also bring us subjects that deserve to be discussed and/or intriguing stories that will remain in our minds for days and days to come?
For a few months now, some studios are taking advantage of this media to address topics that were previously only seen in books, series and movies, and if you appreciate what some like to call – in my opinion, wrongly – interactive stories, then you need to meet Life is Strange.
First chapter (of five) of Dontnod's new creation, the game confirms the French developer's ability to create good plots and paves the way for a story that should please anyone interested in science fiction and mystery.
In it, we will accompany Maxine Caulfield, an 18-year-old girl who is fulfilling her dream, which was to go to photography school and take classes with one of the most respected names in the field.
Everything was going relatively well, with the teenager trying to find time to study, facing homesickness from her parents and having to deal with the "attacks" of the other students, thanks to her behavior, shall we say… not very social.
However, one day Max witnesses a crime and without an explanation being given (at least for now) for it, the event awakens an ability she didn't know she had, which is to go back in time. Completely perplexed and trying to absorb the news, she knows she needs to do something to change that event and from then on we will embark on a story that looks like it came out of an episode of The Twilight Zone or the X-Files.
When she discovers herself, as she says, a walking time machine, Max starts to use her power to help (?) other people, making choices that can considerably change everyone's lives, the famous chaos theory or butterfly effect.
From answers given to others to changing key events, in Life is Strange we will be making decisions all the time and the possibility of going back a few seconds and choosing another path is without a doubt a very interesting mechanic, and it can result in some very cool things (and others frightening).
Even because it works as a pilot episode in a series, in this first part (brilliantly called Chrysalis) we are still not able to see the consequences of our choices, but the chapter works very well by placing us in the proposed universe, in addition to introducing some characters and teach us how time travel works.
It is true that most of the people we have contacts with fail to captivate because they are typical school stereotypes, but the protagonist has a huge charisma and a good part of the great ambiance is due to the excellent soundtrack, which not only deserves praise for having music very beautiful, but also because they add a lot to the experience.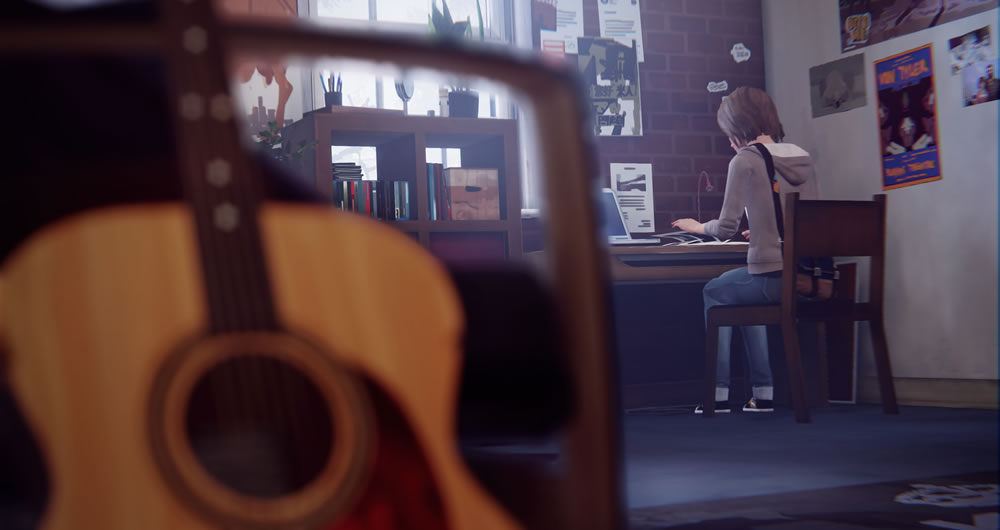 The game, however, skids very badly when it comes to the dubbing, which in addition to having a low level of performance, is still greatly hampered by the bad lip sync work, something inadmissible given the technology available today.
This becomes even more evident when we look at the game's graphics, which, if not compared to high-end titles, at least enchant for the good artistic direction and the great amount of detail in the scenarios, which manage to give a good feeling that we are really visiting a house or exploring the halls of a university.
However, the great highlight of Life is Strange is exactly what he wants to tell us and its mechanics, making it a good adventure along the lines of The Walking Dead and Heavy Rain, clearly two of his sources of inspiration.
With still four parts to go before we know the outcome of Max's adventure, my only fear is that Dontmod has already burned all its cartridges, running out of good ideas for the next chapters and even without such cool songs or as many pop culture quotes as we saw at the beginning. However, the first impression left was very good, even for trying to bring to games such a delicate subject as adolescence and the many difficulties we face in this period of our lives.