When, back in 2009, From Software released Demon's Souls, I imagine that not even the most optimistic company employee thought the game would become the phenomenon it did. Having started a subgenre of games, today we have a large number of creations that are inspired by its characteristics and one of the last ones to venture along this path is Morbid: The Seven Acolytes.
The turbulent flight of The Falconeer Star Renegades — Resist. Recover. Relive. Repeat.
Developed by Still Running, in the game we will be the last warrior of Dibrom, a person who has been trained all his life to face and defeat the Seven Acolytes. Extremely powerful beings, they were possessed by a deity called Gahars and thus began to spread death all over the place where we live.
With an atmosphere that resembles the universe created by HP Lovecraft, we will start our arduous adventure on a beach and there it is already possible to see that chaos is everywhere. With disgusting beings inhabiting the shore, with blood and viscera everywhere, and the fear of being attacked being constant, the atmosphere created by the studio's artists is fantastic, mainly because it is pixelart.
By the way, there's no denying that the visual part is one of the great highlights of Morbid: The Seven Acolytes. Although a lot of people are fed up with graphics like this, I really admire the style and I was very impressed with the level of detail in the scenes and the amount of special effects popping up all the time. Together, these qualities make Dibrom appear to be pulsing, which helps greatly to increase immersion.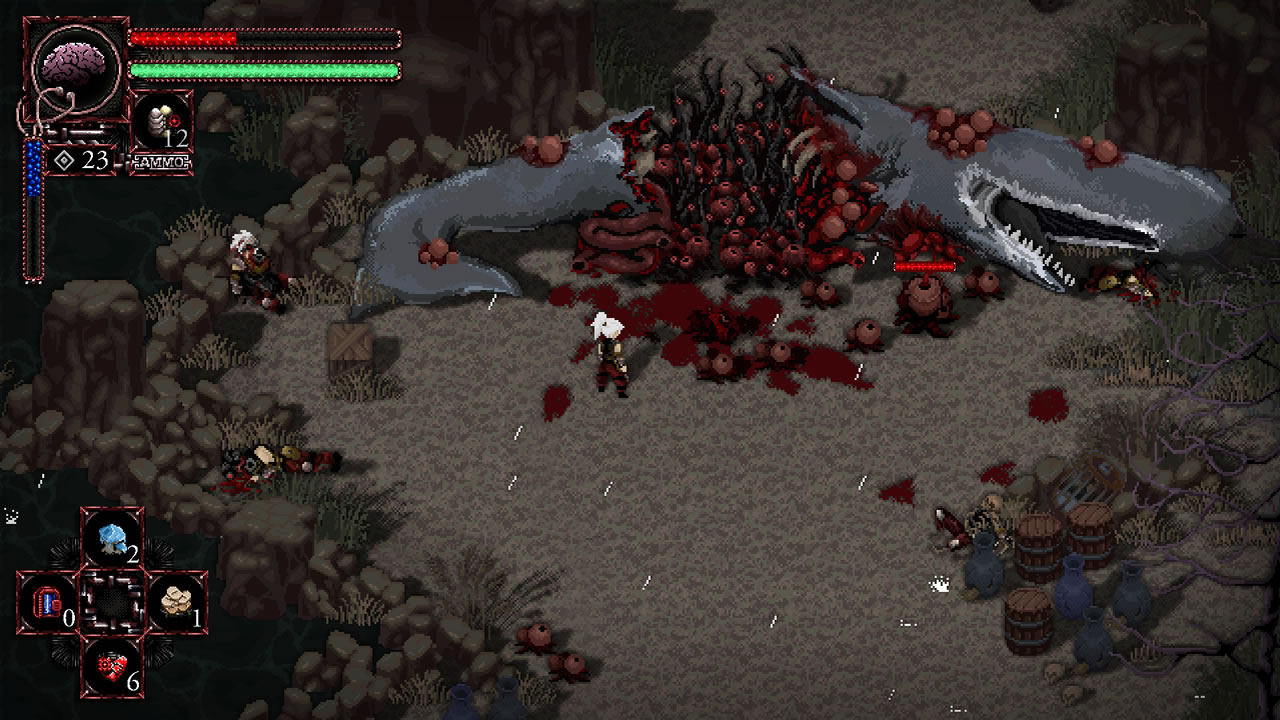 A Souls with aerial view
As usual, at the beginning of the campaign our character will be very weak and will not even have a weapon. This will quickly be resolved, as we'll find a sword that will serve to at least deliver a little more powerful blows. Over time we will find other items that will help us progress, but I didn't like the fact that they are always in the same place. This makes the replay factor decrease a lot, since we won't have a randomness in a future raid.
In the combat part, we can expect the typical gameplay of the type attack-dodge/defend-manage resistance. As in any game of the style, knowing the right moment to deliver blows is what can make the difference between failure and victory, but here we still have a secondary weapon that will give us access to strikes from a distance. The problem is that they have a very limited number of shots, which will force us to think carefully before using them.
In addition, the game also has a sanity bar, which if reset, will cause the protagonist to have hallucinations and ghosts start chasing us. It's not revolutionary at all, but it brings a breath of innovation to the gameplay and helps make the whole experience even more disturbing.
Items can be improved with runes that we find along the way, which will add elemental damage to weapons or grant us passive abilities, such as increasing attack speed or sucking blood from monsters. The detail here is that after using one of these runes, to be removed from the items they will be destroyed and so we will have to think carefully not to waste one of these stones.
Altogether we will have 25 short-range weapons to be used, such as axes, swords, spears and clubs, in addition to a large number of weapons that will allow long-range attacks, such as rifles, shotguns and pistols.
However, the great difference of Morbid: The Seven Acolytes in relation to other soul-likes is the fact that the camera is located over the character, as if it were an old RPG. The positive side of this is that we will have a much wider field of vision, which will give us a few seconds to prepare for the fights. However, when you come across a large number of enemies coming your way, you'll find that this advantage won't do you much good.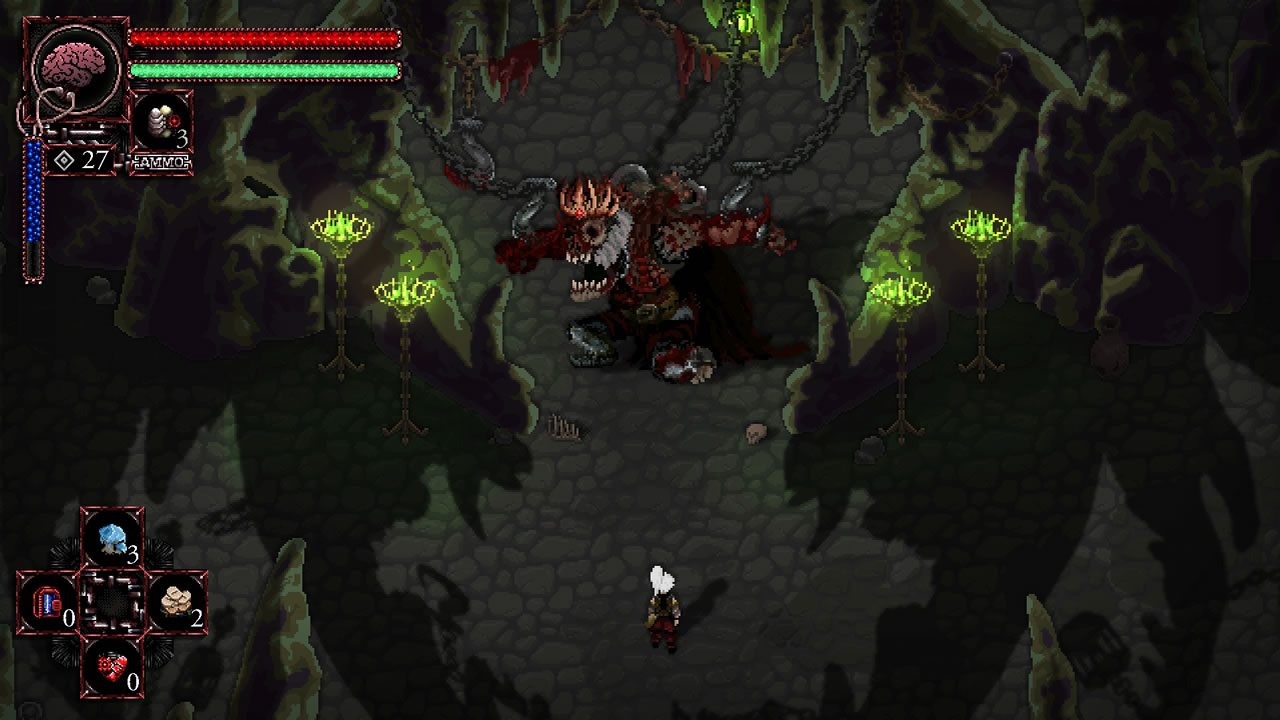 You died!
With gameplay reminiscent of the Souls series, a world that seems to be a mix of Lovecraft and Bloodborne and one of the most beautiful pixelarts of all time, Morbid: The Seven Acolytes is a game that won't change the industry, but it will serve to keep everyone who enjoys titles with the characteristics of the much-loved From Software franchise entertained.
It wasn't this time that a disciple of Hidetaka Miyazaki managed to surpass the master, but even for his simpler approach, I don't think it was possible to expect something so impactful. Still, this is a very well done game that deserves to be tried by everyone.