Since the Dark Souls franchise began to gain popularity, we've seen several games try to replicate the mechanics of the artwork created by FromSoftware. However, usually the titles that did this sought the most varied ways to differentiate themselves from their source of inspiration, but that's not what happened with Mortal Shell.
Ultracore – The resurrection of an abandoned work Darius Cozmic Collection and its legendary mechanical fish
Developed by a team of just 15 people, it will take control of an unnamed character who awakens in a land known as Fallgrim. Without knowing how we got there, our objective will be to progress along dark paths while we need to collect three sacred glands. The problem is that the place is full of threats and just like in the Souls franchise, here it will be essential to have patience and a lot of resilience.
With most enemies being able to kill us with just a few hits, especially at the beginning, just pressing the attack buttons doesn't usually give a good result and so dying in Mortal Shell will be a constant. When that happens, we can try to go back to the place of failure to recover what we had accumulated so far, a feature that considerably increases the tension as we play.
Specialized shells
What makes Mortal Shell different from other titles in the genre is a system that allows us to "dress" the bodies of warriors who were previously defeated in that world and that we can find during exploration. However, the armors will not only serve aesthetically, as each one of them has defects and qualities.
This makes the combat style can change considerably, with one shell having more energy, while another will offer us more stamina, for example. But beyond that, it's interesting that if we're defeated once, we'll be thrown out of that body and revert back to our skeletal form. From there we will have the possibility to recover the shell, but just one blow will be enough to kill us while we are like this.
What eases the difficulty a little is that we will see our energy bar fully recharged after we recover the body, however, we need to be aware of the detail that we won't have another chance after that, a way out that the developers probably adopted not to make the experience too easy.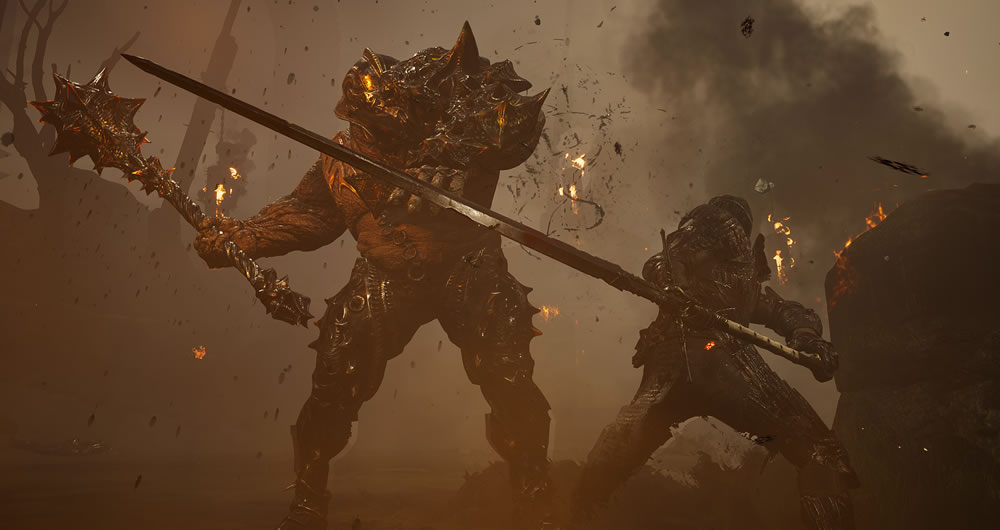 Stone, paper and… trim!
Another aspect in which Mortal Shell differs from Dark Soul is the absence of a button to block enemy attacks, that is, at least not with a shield. Here the defense part will revolve around two elements: turning us into stone and parrying opponents' blows. In the case of the first one, it will work similarly to a block, but without consuming our resistance and needing a few seconds of waiting to be used again. It is worth mentioning that this protection can be activated even when we are making an attack, which will make us temporarily invincible and will increase the chance of the blow hitting the target.
In the second case, trimming will also serve to protect us, with the difference that it needs to be executed at the right time and if it is successful, it can recover some of our energy. This will be essential for us to progress, as Mortal Shell does not have something like Estus Flask, the famous little bottles that allowed us to regain energy in FromSoftware's games.
But in addition to serving to make the Mortal Shell not just a cheap copy of Dark Souls, together these mechanics give a special dynamism to the game, forcing the player to always be aware and develop a level of reflex that will be essential to progress.
a confusing maze
But if the game shines in offering changes to the battle system, the same cannot be said for its level design. Even with the worlds having interconnected areas, the visual part lacks inspiration, with little variation in the scenarios and it is very easy to get lost in the tangle of corridors. As this is a title that does not have a map, it is essential that the locations have outstanding reference points, something that FromSoftware usually does with mastery.
Even so, it's gratifying to be able to advance until reaching a new point in that world, with the game managing to deliver a heavy atmosphere and teaching us from the beginning that death will always be lurking. From the scary enemies to the fear that is always in the air, it is impressive to think that a title with so many successes managed to be made by such a small number of people.
Being therefore another good addition to the growing list of games known as souls-like, this Cold Symmetry creation never seems to be shy about imitating its master, whether in visual style, in the way its plot is unclear or even in its gameplay. This can be seen as both a plus and a minus, but if you like the style, you need to give it a try, as Mortal Shell is a great game and has its own strengths.