The 90s were coming to an end and although the magazines of the time were already talking about a new generation of consoles, my attention was almost entirely focused on the PC and one game in particular interested me, a certain Half-Life.
According to several specialized publications, that title had everything to revolutionize the industry, making FPSs stop looking like mere shooting galleries and offer good stories to players, in addition to more varied objectives.
But before continuing, I need to make a comment. Until I faced that creation of the then-unknown Valve, I even liked first-person shooters, but by far they were among my favorites and the promise of a more complex experience was exactly what interested me in HL.
After a few months I got a copy of the adventure starring Gordon Freeman and when I was thrown on that train that took us to the Black Mesa complex, I confess that I found those interminable minutes when we couldn't do almost anything, just observe the scenarios, very strange.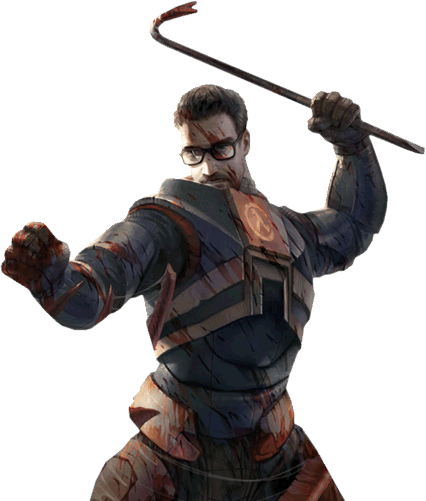 Then I still had to explore the facilities, listening to some characters and without having a gun in my hands, all of that seemed a bit bizarre to me. Today this description may seem like heresy, but it is necessary to place it in time, because as I said, until then most FPSs were limited to shooting everything that moves.
After this opening and the incident that opens the portal to another dimension, I started to feel more and more immersed in the world proposed by its creators and I soon realized that yes, it was possible to have a good narrative even in a game of the genre and I went to the end of the campaign without blinking.
On the way I was surprised by several incredible passages, I met charismatic (and enigmatic) characters and faced the most threatening dangers, but mainly, I ended up becoming Dr. Freeman, a man without a face or a voice, but who perfectly served as an avatar for that fantastic adventure.
Every now and then I feel a huge urge to play the first Half-Life again, but the years have made id Tech 2 very outdated and I have a great fear that the fond memory I have of it will be erased. Hopefully, the Black Mesa mod will fix this soon, but for now, it's all promises.
Anyway, I think I will always consider that game one of the most important in history, whether it made me love FPSs, laid the foundation for Valve to become a giant, or simply because it introduced us to one of the universes most amazing in the industry.
[alert variation="alert-info"]The Remembrando column was born there at Meio Bit and the intention with it was to talk about old games that I love. Now it will be published here, every week, but the intention is to give a more intimate view of the games, telling personal situations that remind me of these classics and that sometimes may have the total veracity of the reports compromised by my memory.[/alert]