As much as I try, I could never know for sure when I started playing video games, but one thing I was always sure of: one of the first memories I have of this passion is the game River Raid.
Released in 1982 for Atari, I imagine that anyone who has played the late video game knows this classic, which in addition to being one of the first Shoot 'em ups ever made, has in its creator one of the legends of the industry.
In case you thought it was strange, yes, River Raid was conceived by Carol Shaw more than thirty years ago, at a time when it was not even dreamed of asking for more women to be part of the creation of games and that's why she is considered the first game designer of the story, which only reinforces the importance of the game. Furthermore, due to its "violence" the game was the first to be banned for minors in Germany.
In it we controlled a plane that was beyond enemy lines and had to go up a river known as the River of No Return. To survive, the player would have to shoot down helicopters, ships and other planes along the way, always having to worry about fuel, which had to be refilled at specific points.
[one_half]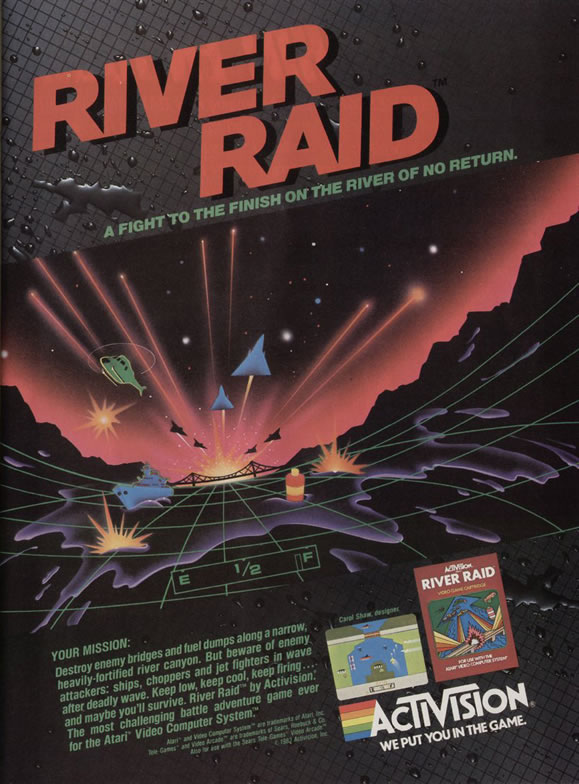 [/one_half]
In the technical part, River Raid also had a detail that set it apart from other games, since the cartridge did not have the entire scenario stored in its memory and so that so much could be available with so little memory, an algorithm was used that generated the environment procedurally. An elegant and quite impressive solution for the time.
Being a lot of fun even today, I consider this the best game ever released for Atari and I think it is among the most important on the platform. However, unfortunately its continuation did not have the same success and although the Super Nintendo was chosen to receive a third chapter, which would be called River Raid: The Mission of No Return, such a game never saw the light of day.
But you know what really marked me in River Raid? The memory of spending hours and more hours sitting in front of the TV with my father's company, just to know who would make it as far as possible in that game and of course, even at a young age, I don't think I could ever get over it. However, that was a moment reserved just for us and for that I will always be grateful to the game, not only for helping to make me like video games, but also for maintaining such a cool image of a person I love so much.
***
The Remembrando column was born there at Meio Bit and the intention with it was to talk about old games that I love. Now it will be published here, every week, but the intention is to give a more intimate view of the games, telling personal situations that remind me of these classics and that sometimes may have the total veracity of the stories compromised by my memory.