At the turn of the 80's to the 90's, I was always asking my father for a new video game. At the time, the Master System and Nintendinho were the most common in Brazil and as I only had one Atari, I couldn't wait to get a more powerful console.
Months passed, turned into years and no gift. The only contact I had with these much more advanced devices was at cousins' or friends' houses, and my father tried to control my anxiety with the promise that I would soon receive something much better.
[one_half] [testimonial company="Compositor" author="Yuzo Koshiro" image="http://www.vidadegamer.com.br/wp-content/uploads/2014/03/YuzoKoshiro.jpg"] When Streets of Rage was in development, around 1990, the nightclub scene was gradually spreading across Japan to house and techno, and I was listening to these songs intently, so I started thinking about taking the sound of this genre, that I had no connection to, for games and to be the first to do that.[/testimonial] [/one_half]
So, one fine day he showed up at my house with a huge box and I knew right away, "there was my much-desired Master System/NES" and what was my surprise to find out that no, what he had brought was an incredible, a fantastic, a very powerful Mega Drive!
Along with the console I won two games, the Super Hang-On, which already won me over with the image of the bike on the cover and a Bare Knuckle. Yes, those who know the franchise know that this is the Japanese name of Streets of Rage and as my video game had been made in the Land of the Rising Sun, the games would also have to be from there.
Curious to know what that game was about, I tried to put it on the console and without having much idea at that time – either because of inexperience or sheer excitement – ​​I was presented with one of the most remarkable (at least for me) openings in the history of games. games, largely due to the brilliant music composed by Yuzo Koshiro.
Released in 1991, Streets of Rage was a clear attempt by Sega to fight Capcom, which two years earlier had released Final Fight and was gaining a legion of fans with beat 'em up games, with a version exclusive had just arrived on the Super Nintendo.
In what can be considered a risky move, Sega seems to have seen in the game an excellent opportunity to leverage the sales of its main console and that's why SoR did not appear in arcades, where this type of game was so common and today we can say that they made the right decision, after all the title – and the series as a whole – ended up becoming one of the icons of the Mega Drive.
Despite not excelling in the plot and having smaller characters than those seen in other "street fighting" games, which some considered a defect, Streets of Rage had a very well balanced gameplay and one of the best soundtracks ever created for a game, which in the set of work justify its fame.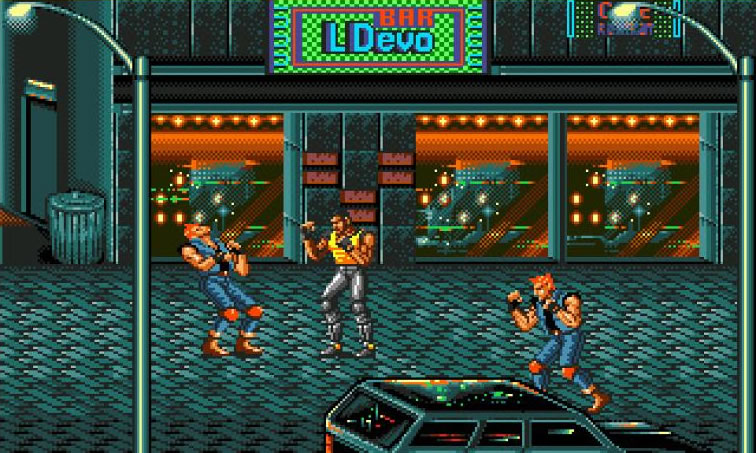 After so many years, I wouldn't know how many times I finished that Bare Knuckle, but I know that there were many and that for a long time I knew most of the secrets of that adventure that guaranteed me a lot of fun, alone or with friends.
***
The Remembrando column was born there at Meio Bit and the intention with it was to talk about old games that I love. Now it will be published here, every week, but the intention is to give a more intimate view of the games, telling personal situations that remind me of these classics and that sometimes may have the total veracity of the stories compromised by my memory.