Like many kids of my generation, for a long time I dreamed of becoming an airplane pilot and one of those responsible for that was the movie Top Gun: Indomitable Aces, which was so successful in the Afternoon Session.
As that was a very difficult dream to pursue and that will at least take a long time to fulfill, at that time I was content with piloting virtual aircraft, but until the mid-1990s, anyone who owned a console was limited to very simple games, with immersion coming much more from our imagination and not from the realism of what was offered to us. Then, while digging through the catalog of one of the video stores I frequented, I came across a game that looked fantastic, Tomcat Alley for Sega CD.
Developed by The Code Monkeys, that title clearly inspired by the feature film starring Tom Cruise put us aboard the powerful F-14 Tomcat, giving us the mission to annihilate the Russians who threatened to destroy the United States using Migs and chemical weapons.
All filmed with real images, the game was part of the console's list of FMV titles, but which had the differential of having been made with TruVideo technology, which meant the image occupying the entire screen and thanks to a system called Active Matrix, it made it possible to the player much more interactivity and variation during the adventure, unlike what happened in games like Dragon's Lair and Time Gal.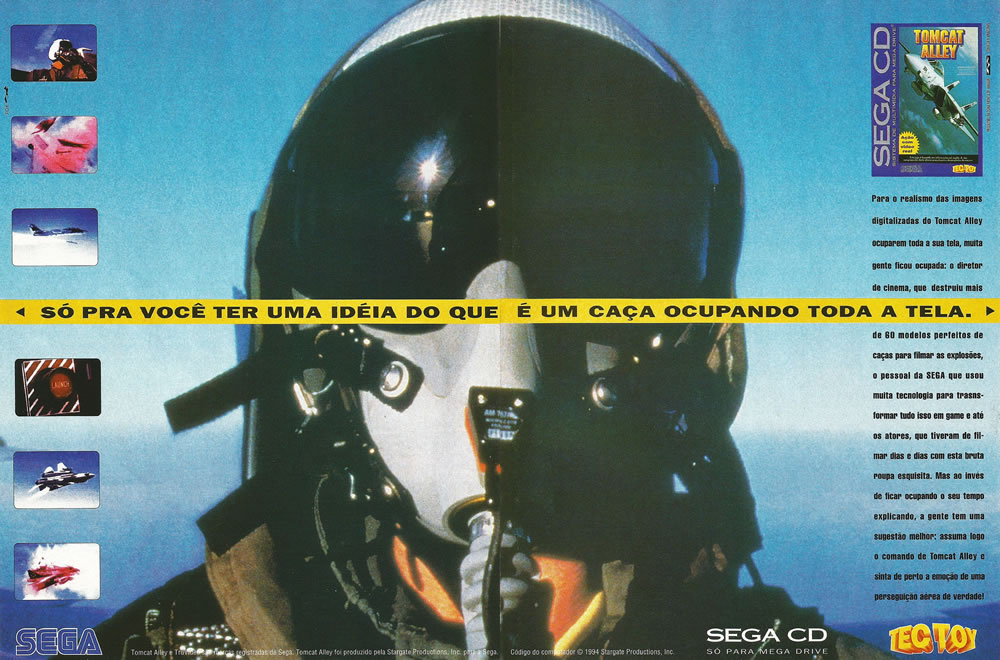 Even so, Tomcat Alley suffered from the limitation of actions, which practically boiled down to aiming at targets and trying to dodge missiles fired by enemies, functioning more as an interactive story than a game itself. However, the first-person view when we were inside the plane and the non-interactive scenes helped provide fun.
Despite telling a cliché story, some lousy performances and the low quality of the video images, the game did its job well in conveying the idea that we were part of the US air force, even because there weren't many options at that time.
Today Tomcat Alley may seem like an ugly and limited game, but when it hit the market, for example, it managed to receive from GamePro the title of best game on the Sega CD released in 1994 and more than that, it managed to make many have the feeling of how was to be aboard the legendary F-14.
The Remembrando column was born there at Meio Bit and the intention with it was to talk about old games that I love. Now it will be published here, with the intention of giving a more intimate view of the games, telling personal situations that remind me of these classics and that sometimes may have the total veracity of the reports compromised by my memory.