I love the idea of ​​a game where we need to learn from our failures and make us take advantage of what we've acquired to make us stronger in the next foray. These are the main characteristics of rogue-lite, but for some time now, after seeing a multitude of indie titles resorting to this structure, I ended up getting tired of titles like that.
Assassin's Creed Valhalla: A Tale of Blood and Glory The Terrors of Vigil: The Longest Night
The big problem is that when betting on this type of mechanic, most games incur the error of being very repetitive, but when Massive Damage announced the creation of Star Renegade, two details made me want to play it: the plot anchored in science fiction and turn-based battles, in the best JRPG style.
In it, we'll be Wynn Syphex, a pilot whose ship is shot down during an empire's invasion of her planet. To make matters worse, the attack causes the girl to lose her brother and from there she will join a group known as the Renegades, starting a saga in search of revenge. The difference is that an important person on the team will be Professor Zurek, a guy who has developed a way to explore parallel timelines.
That's where the rogue-lite element of Star Renegade comes in, since every time our team dies, the scientist will send the J5T-1N robot to another dimension, thus giving us a new opportunity to win the battles. This is an interesting trick to make the idea of ​​a new chance something more immersive, but although the game's plot starts out very interesting, over time it loses strength and leaves us with the feeling that the studio could have done more in this part.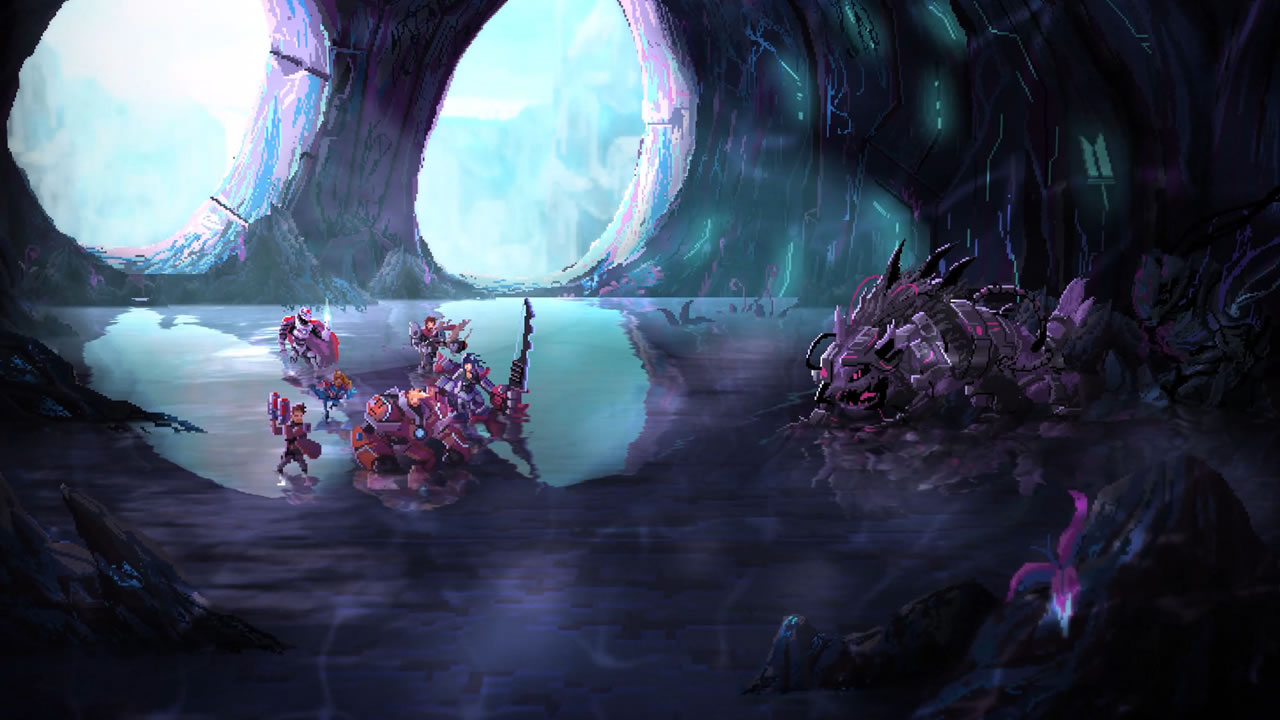 The exciting turn-based battles
But if the Star Renegade story has some development issues, the same can't be said for its battle system. With a mechanic based on "Reactive Time Battle System", this means that whenever we enter a fight, both our characters and enemies will be in different positions of a progress bar. It will be the one that will determine the order of actions, which is not unprecedented, but it was very well implemented.
That's because depending on the type of attack we choose, it will be executed slower or faster. In addition, enemies are more vulnerable or resistant to certain types of blows and have shields that need to be destroyed before we can do damage to them. All of this makes the confrontations demand a high dose of strategy and are much more difficult than in most turn-based RPG's, but that's exactly why the game is so fun.
advance die and repeat
Rogue-Lite are games where we usually have procedurally generated phases and when we die we are forced to go back to the beginning, sometimes keeping items and/or previously acquired experience.
In them, the knowledge acquired in a session will make us better, with the satisfaction of being able to go even further and eventually reach the end of the adventure.
In a rather simplistic way, we can say that Star Renegades is all about attacking with the greatest possible force before the enemies managed to hit us. One of the reasons for this is that although our shield is recovered as soon as we finish a battle, the same will not happen with our characters' energy bar. This will only happen in specific situations, so it will be essential that we avoid being affected as much as possible.
Outside of battles, the title will put us to explore the map with an aerial view, with a style more reminiscent of a board game than what we are used to seeing in an RPG. Furthermore, the movement will happen in a limited way, with the group being able to perform only three sets of movements. As the paths to be followed show the enemies we will encounter and the rewards we will receive, it will be critical to choose wisely where to go.
However, as everything will be procedurally generated here, not always just playing in a way that borders on perfection will be enough for us to succeed. With "luck" directly affecting a game session, it won't be unusual for us to enter a battle and realize early on that we won't make it out alive. This is something common in titles with this kind of randomness, causing us to have to repeat a stretch several times and this unfortunately makes the repetition also harm the Star Renegades after a few hours of gameplay.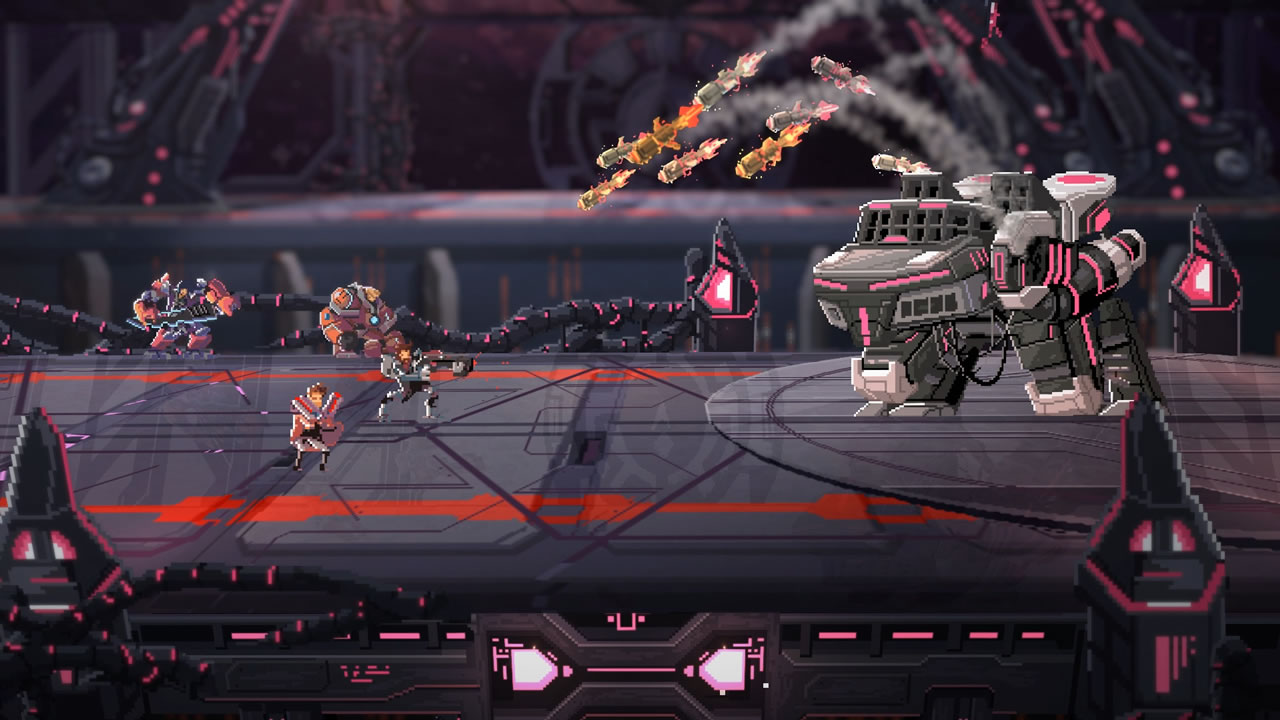 A gift for the eyes — and for the ears
Lately we've seen a lot of games resorting to pixelart and while I'm passionate about this style, I recognize that we rarely see anything really different done this way. But this is not the case with Star Renegades. Instead of creating something that could easily run on a 16-bit console, something many studios do, Massive Damage preferred to take advantage of all the power of current machines and abused the details in the visual part.
From the light and shadow effects on the characters to the colorful backgrounds, seeing the game in motion is a fantastic experience, to the point where I often want to stand there just admiring the spectacular work done by the artists responsible for the game. I can't even imagine the work these people went to to bring the title to life, in what is certainly one of the most beautiful pixel graphics ever made.
Another point that also deserves praise is the sound part. With a remarkable soundtrack that takes us directly to a time when game music was imbued in our memory, I honestly didn't expect this part to please me so much, with the soundtrack perfectly matching both the visuals and the theme futuristic.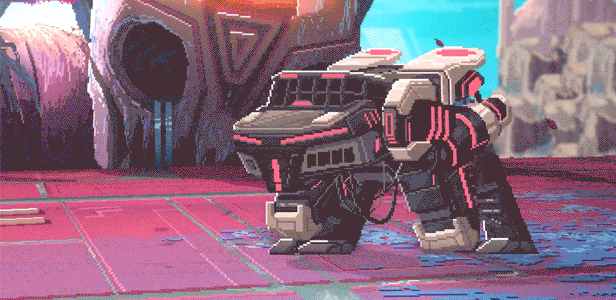 Persist or give up. You decide!
In the end, Star Renegades is pleased to deliver a beautiful art direction, but mostly because it has a fantastic battle system. Making each confrontation work as a challenging and intricate puzzle, the game is a full plate for strategists, making us have to think carefully about every action we take.
Yes, at first everything will seem too complicated and the learning curve will be quite steep, but with time (and dedication) we will better understand how all the mechanics work and how to get the best out of our characters. Not that for this it is necessary to die, die and die, because as in any good rogue-lite, failure will be our best teacher here.