I hate to play a franchise out of chronological order, but soon after buying my Playstation 3 and testing the Resistance: Fall of Man demo, I came to the conclusion that that game wasn't for me.
Maybe I thought this way because I hated the gameplay, probably because I was so used to the Xbox 360 controller, or even because I found its graphics too simple, but the truth is that I completely lost interest in the game, until I started watching it. some trailers of its sequel, before its release.
So I played Resistance 2, having had a lot of fun with its main campaign and looking forward to the third chapter, which in turn made me start to feel like playing the first one, just to get to know the plot in its fullness and the last ending. week I managed to finish it.
As it was one of the first games for the console, when I put the disc in the PS3 I already did it with the thought that maybe I would find a game technically much inferior to the one we currently have, something that in a way has been confirmed.
Although it shines in some moments, the visual part of Resistance: Fall of Man can't compete with titles like Killzone 2 or Uncharted 2, mainly because of its textures, however, I was still quite impressed with the size of the scenarios, with the particle effects and especially the absence of aliasing, something not very common in Playstation 3 games.
The campaign is also not as good as in the second game, with the protagonist Nathan Hale functioning as the typical "one-man army", but as in the visual part, some passages are very interesting, especially those in which we control vehicles of the enemies or we are on a huge battlefield.
However, what I like most about the series is its unusual setting, putting you in the middle of a battle against aliens right after the end of World War II, with all the action taking place in real cities on Earth. Interestingly, this alternate reality gives creators freedom to experiment, and what benefited most from that were the weapons, with the series having some of the coolest ever seen in a first-person shooter.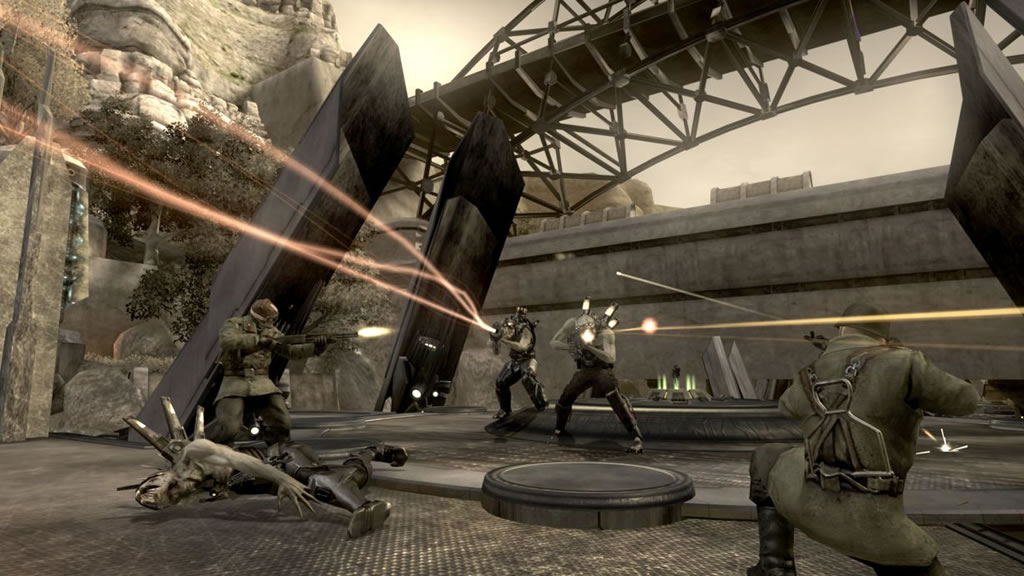 Resistance: Fall of Man is a good game, which perhaps served more for Insomniac Games to readapt the genre and found the basis for a great franchise. Even though I enjoyed the experience, I would only recommend it today to those who want to get to know the series better, even because not even the much-loved trophies are present.
Mission accomplished, now it's time to take a moment and start facing Resistance 3, hoping it's as good as the second.