About three months ago I decided to face a tough challenge. With the offer of a Polish course in the city where I live, I decided to sign up to learn a new language and, above all, to get to know a little about the culture of a people with whom I had little contact.
I confess that the task has been more complicated than I expected, but the little I have learned so far was enough to make me fall in love with the language and enough to make me want to absorb as much of the wisdom of Poles and their descendants as I could.
It was then that, after starting to play the spectacular The Witcher 3: Wild Hunt, I suspected that the title would have taken advantage of Polish culture in the construction of its beautiful world, since its developers are from there, and the idea of ​​writing an article came up. talking about the local legends that inspired the many threats we face in the acclaimed RPG.
— Sapkowski, the wizard and the monsters
Based on the book of the same name by Polish writer Andrzej Sapkowski, The Witcher (Wiedźmin, in the original) is a series of games created by CD Projekt RED, a developer located in Warsaw.
Set in a fantasy world, the story revolves around Geralt of Rivia, a genetically modified wizard whose specialty is hunting monsters and who during his adventure gets involved with beautiful women and witnesses the bloody political dispute that takes place there.
In addition to presenting an extremely detailed virtual world, full of stories and remarkable characters, the series gained the attention of players by offering an elaborate system of moral choices, putting them to make complicated decisions and having the possibility to see everything around them being changed according to your actions.
However, one of the highlights of the series is also the great variety of supernatural beings that the protagonist will encounter during the adventure and then you will see that some of them were inspired by Polish folklore, that is to say, they seem to have a fascination for aquatic apparitions and whose origins are pretty scary.
Before starting, a clarification: before the description of each legend is the name by which they are known in Poland and in parentheses is the way such monsters are called in the games.
Known as a kind of vampire, strzygi are women who have been cursed. According to Polish folklore, people with two hearts and two sets of teeth are also considered as such. In addition, it is believed that children who are born with teeth should also be treated as threats and for this reason many of them were persecuted. However, there are those who say that these monsters do no harm, being just the omen of someone who is about to die.
Those who believe in this legend say that such beings usually die early, but as they have two souls, one of them remains in the body, returning to life to then hunt its victims and thus pass the "disease" on.
Resembling huge owls and flying at night, strzygi's targets are often people who visit forests during this period, but without humans to attack, they can target animals.
To kill a strzyga it is necessary to decapitate it and burn its head separate from the body, but some claim that if it is buried with a scythe around its head, that will be enough.
Nocnica or Płaczka (Nightwraith)
Can be described as a "spirit of nightmares", płaczki or nocnicy are known to torment children's sleep, which they do by sitting on the chest of the little ones to suck energy from them, visiting their victims for several nights. Because of this, these beings are also often compared to vampires.
Made of shadows and emitting high-pitched screams, these witches exude a scent of moss and dirt, with some claiming that sleeping on their backs and with their hands on their chests is an invitation to płaczki, as this position is commonly known as " sleep with the dead".
To avoid the attack of a nocnica, some mothers place a stone with a hole in the middle near their children, draw a circle around the crib or, believing that supernatural beings do not touch iron, leave a knife in the place where they are sleeping. .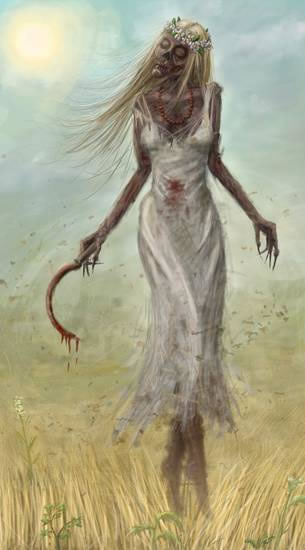 Also known as Lady Midday, or Lady Midday, it is a spirit dressed in white that roams the fields, with its attacks that can cause from small scratches on the neck to heart attacks, or even driving people crazy.
With her description ranging from a girl apparently 12 years old to a much older woman, this haunting appears only in the hottest of summer days, carrying a sickle or scissors that are used to decapitate those who fail to answer the tough questions. which are made by the lady.
Inspired by the legend, in 1896 the Czech Antonín Dvořák wrote Polednice, a tragic symphonic poem that tells the story of a mother who tells her son that if he doesn't behave, she will invoke a południca, which ends up happening. Then, in an attempt to save the child, the woman accidentally suffocates her, then dies with the child in her arms.
Topielec or Utopiec (Drowner)
In Slavic countries, it is believed that those who drowned or babies who were aborted end up becoming spirits who go on to inhabit the element in which they appeared. That is, an utopiec is a being that hides in lakes, swamps and wells, sucking its victims to the bottom or killing animals that approach stagnant water.
With slimy skin, tall and dark hair, they usually come to the shores during the new moon and one way to avoid being attacked by these water demons would be to wear a rosary around their neck.
"When near the water's edge, you need to be quiet. First not to scare the fish. Second to not attract the drowners." —Yanneck of Blaviken, fisherman.
Much smarter than most monsters, a leszy — or, "the one in the woods" — is a male humanoid being tasked with caring for wild animals.
A leszy's main characteristic is its ability to change shape or size, in addition to its beard and hair made from vines and brush. As several disappearances of children are often attributed to these demons, who are often depicted with pale skin, hooves, horns and a tail, it is quite common to associate him with the devil. They would also be the equivalent of the curupira of Brazilian folklore.
Having extensive knowledge of everything related to wildlife, it is said that many farmers and herders make pacts with leszy, in an attempt to have a better harvest or a healthier herd.
Living behind stoves or in the basement, these spirits are also associated with a bad night's sleep or sleep paralysis and specifically in Polish folklore, a mora is a person's soul that has left the body while he or she slept.
Looking like a tuft of straw or hair, the mory enter rooms through the keyhole, then sit on the person's chest with the intention of strangling them.
The recommended method for children to avoid an attack is to look out the window or turn their pillows and make a sign of the cross on them, with some even suggesting leaving a broom upside down behind the door or putting a belt over the sheets.
There are those who say that those who sell a house and who want to harm the buyer can invoke a delay, which can annoy residents by whistling, making noises during the night or even breaking dishes.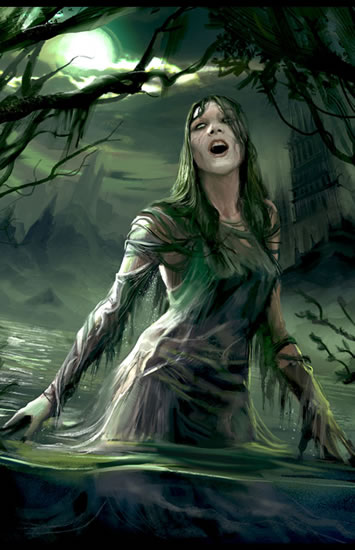 Although until the 19th century it was not considered an evil spirit, today rusałki are feared by many, as the only purpose of these apparitions is to suck the life out of their victims, usually men who fall under the spell of these hauntings that look like beautiful women.
Often compared to mermaids, rusałki are the spirits of young women who committed suicide by drowning, were mistreated by their (often older) husbands shortly after marriage, or who were drowned because they became pregnant against their will.
In Russia, for a long time, it was believed that red-haired women could become a rusałka, as they were bewitched. Legend still says that this haunting can arise from an unbaptized baby who was drowned by his mother, having been generated out of wedlock. In these cases they wander along the banks of rivers crying out for baptism to be done so they can rest.
The Slavic equivalent of nymphs in Slavic folklore, wiły are also treated as bogeymen and appear as either naked women or wearing beautiful white dresses, leafy clothes or extremely detailed blue robes.
In life, these spirits were women who gave an exaggerated importance to futile things and therefore, after they died, they wandered between the material and the spiritual world.
Despite their harmless appearance, these fairy-like beings are powerful warriors, to the point of making the earth shake when in battle, with a group of them even being able to lift a house with a gust of wind.
Even though they are known for helping humans, their charm can be used to win over young men, who if they break their word or threaten them, will pay with their lives.
If one day you come across a lower grass circle in a field, don't step on it, for a wiła danced there and that will bring you bad luck.
With a frog face and a human body covered in moss, algae and fish scales, wodniki inhabit rivers, lakes, and ponds, where they travel on a log and, like rusałki, are often thought to be the cause of drowning.
In addition, when angry they can destroy dams and mills, as well as kill animals, which makes many fishermen and even beekeepers make sacrifices to please them.
As they tend to attack those who party on the edge of their habitats, popular knowledge recommends not disrespecting these places and avoiding swimming at night.
In 2013, director Fred Terling released the horror film Croaker, which tells the story of Florian Sirko and his family. In the long, they must face a curse that has brought a wodnik to their town, while dealing with the skepticism of the great love of their life.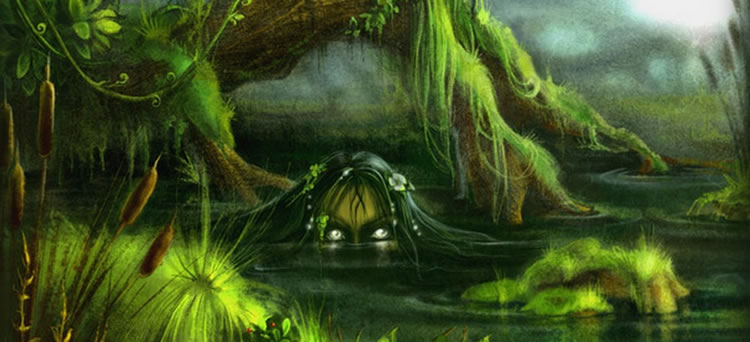 Being mentioned since ancient Greece, wilkołak is the way the Poles refer to lycanthropes, or as we are used to calling them, werewolves.
One of the versions of the legend says that the curse began with Lycaon, the first king of Arcadia and that due to his high religiosity, he began to make human sacrifices, killing all foreigners who came to his city.
Outraged by the attitude of the son of Pelasgus, Zeus assumed the form of a pilgrim and paid him a visit. As usual, the king ordered that man to be sacrificed and after witnessing some signs that he was a god, Lycaon had his subjects kill, dismember and cook a slave to serve to Zeus. In the face of such barbarism, Zeus turned the king and his 50 sons – who were equally cruel – into wolves.
—————————————————————–
It is important to say that these are just a few legends that inspired The Witcher games, but there are many other monsters present both in games and in the rich Polish folklore.