With beat 'em ups starting to gain more and more admirers, in 1987 the Taito Corporation looked for a way to conquer a share of that market and for that it launched a game called The Ninja Warriors to arcades. The title was never as successful as others of the same style, until 1994 Natsume developed a sequel to the Super Nintendo and that's when I had my first contact with those cyborgs.
The Surge 2: Learning from Past Mistakes Far Cry New Dawn — Review
With characters that occupied a good part of the screen, scenarios full of details and a fun gameplay, I remember that the game was widely talked about in video stores, which almost always had one or another guy paying by the hour to try to reach its end.
With a slightly simpler mechanics than seen in titles like Final Fight or Streets of Rage, in it we couldn't move our characters up or down across the screen, with the progression being exclusively sideways. This feature could be pointed out by some as a negative point, but in the end it served to differentiate it from the others and still allowed the game to have a series of more elaborate moves and combos.
The oppressed people? Release the machines!
With its plot set in the not-too-distant future, The Ninja Warriors was about a dictator who called himself Banglar the Tyrant and who commanded an army made up of humans, mutants and robots. With their reign having lasted for decades, a group of rebels decided it was time to fight back, but this would not be easy.
Unable to stand up to the villain with the weapons they had, they embark on a plan that would serve them as their final card: send a trio of ninja-inspired cyborgs on a mission to blow up Banglar's headquarters.
As you can see, the story has the same depth and originality as any fighting movie from the 80's, serving only as a motivation to let down our arms in everything that crosses our path and being a good excuse to control robots worthy of scaring anyone. White Dragon.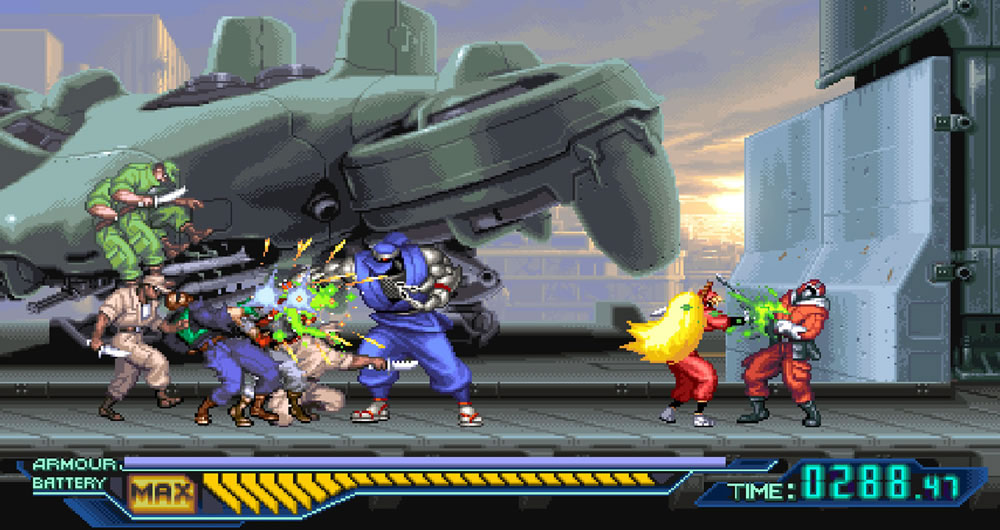 The (unexpected) return of a classic
As it is a title without as much appeal and which practically didn't innovate, I don't think I would have expected to see it being re-released, even more as a remaster. But that's exactly what happened recently, with Natsume and Taito teaming up again to bring The Ninja Saviors: Return of the Warriors to PlayStation 4 and Nintendo Switch.
Produced by several professionals who worked on the creation of the original, this version tries to keep much of the magic that we liked on the SNES, but taking the liberty to implement some changes and even improvements. The first to be noticed is in the visual part, since now, in addition to supporting widescreen screens, we will also have scenarios and characters with more details.
Another novelty that should be celebrated by a lot of people is the fact that finally two people can play at the same time. Although it's common and helps make beat 'em ups even more fun, The Ninja Warriors didn't give us this option and luckily the game's team realized that this was a flaw that needed to be fixed.
In addition, The Ninja Saviors: Return of the Warriors still brings two new characters that can be unlocked, the ninja known as Yaksha and who has arms that stretch; and the brute shinobi named Raiden. To play with them, just finish the game on the normal difficulty level and then on the hard one.
a milder difficulty
As it has been many years since I returned to the game released for the old Nintendo console, I can't remember if it was very difficult, but when it comes to The Ninja Saviors: Return of the Warriors, I can say that the game is quite accessible. Maybe those who don't have much affinity for beat 'em ups will suffer a bit, but for those who grew up making money in arcades, you can progress with it without too much trouble.
With a good dose of items to recover energy, items scattered throughout the scenarios that will serve as weapons and enemies that usually don't have much resistance, going through the stages (eight in total) without losing many lives is something possible and even if they run out, rest assured that the continues are endless.
This, of course, if we are not facing the hard level, but as most people should only venture into it after reaching the normal end, the experience gained previously should help predict opponents' movements and develop more refined reflexes. .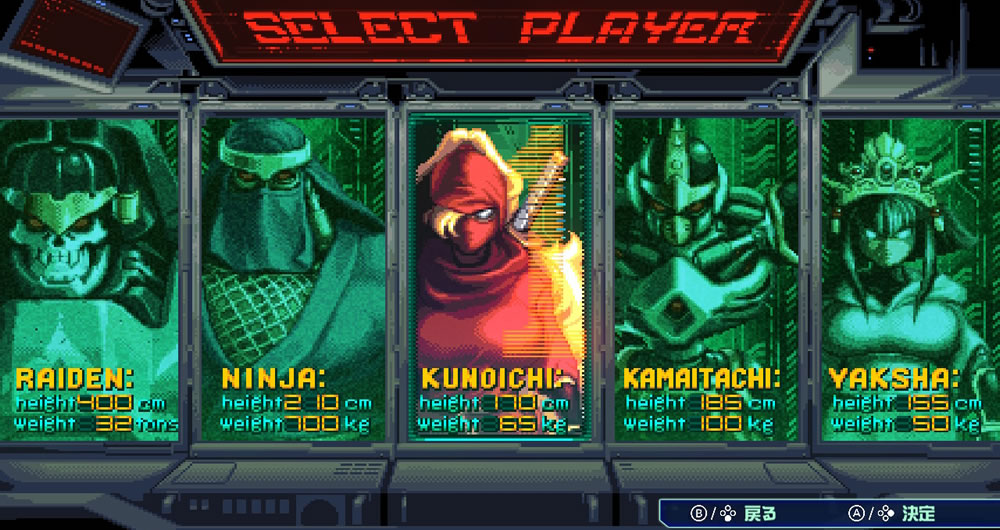 A remaster without many changes
But as with almost every remaster/remake, what many people want to know is whether this new version is worth it. Because the simplest answer to this question is… it depends! On the one hand, The Ninja Saviors: Return of the Warriors is an honest remaster, which retains everything we liked about the original and still brings some really nice tweaks — and even necessary ones.
On the other hand, if you were expecting a The Ninja Warriors full of additional content and one that could make the biggest fans find a reason to revisit it, you might be disappointed. As understandable as the expense that new stages could lead to production is, it is unacceptable not to have even a museum with interviews, conceptual arts or curiosities about the game.
The expectation is that a possible commercial success of this relaunch will make Taito interested in launching a true sequel, a The Ninja Saviors 2 that would expand the franchise's universe and bring something really new. But how nostalgic I am, preferably keeping the pixelated graphics and 2D gameplay. Maybe one day?