From the beginning, video games have always tried to give us an idea of ​​what it would be like to be in the middle of great wars, but almost always this has been done by placing us as active parties in the conflicts, rarely trying to approach the victims' point of view.
Among many other things, This War of Mine shines precisely for showing the other side, for trying to give the player the terrible experience of having to survive in a city completely destroyed and where we will never have the opportunity to end up with so much misfortune.
Developed by Polish 11 bit studios, the game caught my attention as soon as it was announced, as I was very curious to know how they would develop such a delicate topic and I can happily say that what they delivered was beyond my expectation.
Without providing the player with any tutorial or even information on how to proceed, its mechanics are so intuitive that it won't take long for us to realize that the game's focus will be on resource management and decision-making, aspects that are intrinsically interconnected and that will show fundamental for the creation of the dramatic charge that the title intends to offer.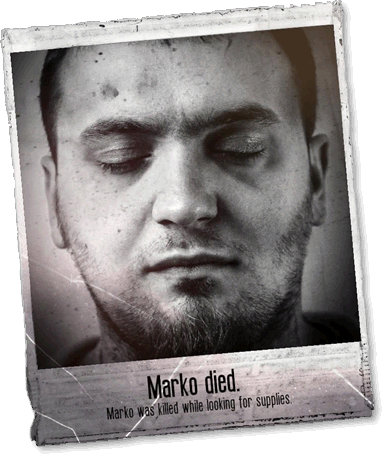 Clearly inspired by the Siege of Sarajevo, a conflict that lasted between 1992 and 1996, it will initially give us three characters to control and it will be up to the player to search the house they inhabit and the outskirts of the city looking for food, weapons, tools and other items. that in one way or another will be essential for survival.
Once we are there, we will be able to manufacture items, take care of the sick, feed ourselves, sleep… The problem is that we will not be able to go out during the day, since snipers are a huge threat and during the night, there is a great possibility that our shelter too be invaded, so choosing wisely who will stand guard, who will sleep, and who will go looking for resources can be the difference between success or death.
When we are exploring other buildings, there is a great chance that we will come across survivors and it will be in these moments that we will witness some of the most tense situations, such as having to decide to rob an elderly couple or witnessing a thief fleeing from a residence and the resident attacking you thinking it was you who had invaded the place.
In fact, This War of Mine is a game in which we will be making choices – many of them moral – at all times, after all, what is more important, having a stomach full of food and a well-stocked medicine cabinet, or a clear conscience for know that it has helped children who live nearby?
The interesting thing is that even with a side view and a visual that seems to have been drawn by hand, the game manages to pass a much higher level of immersion than many games of great part that we see out there and beyond the very decisions that we have to take, the comments, often in a lamentable tone, that the characters make from time to time contribute greatly to this.
With a very accessible gameplay and a fantastic narrative, This War of Mine will be a long and painful journey, just as a game that tries to portray a war should be and more than entertaining us, it will serve as a beautiful life lesson and make us think about how traumatizing it must be to go through a situation like this.
This is a game that should be mandatory for everyone, not just for those who like video games and when I tell someone that I work writing about video games and they look at me in amazement, I won't try to explain how this is possible, just I'll ask her to play This War of Mine, as I think it will make it easier for her to understand what's so fascinating about this industry.