I really like real-time strategy games, but I have to admit that the Total War series has always caused me a bit of a fear. With an above-average level of detail, facing any chapter of it seemed like a crazy thing to me. However, when I received the invitation to discover Total War: Three Kingdoms, I decided it was time to venture more willingly into this very intimidating terrain.
Run, shoot and explore in Turrican Flashback Collection Space Invaders Forever — An immortal classic
Created by Creative Assembly and with its first game released in the year 2000, the Total War series specializes in portraying some of the bloodiest periods in human history. From the battles fought by Napoleon Bonaparte to the conflicts of the Roman Empire, through the Japan of the samurai and the bloodbath caused by Attila the Hun, she even ventured into the fantasy universe created by the Warhammer franchise.
In 2019, it was time for the series to explore one of the most fascinating periods in China, a time that lasted between 220 and 280 AD, when the country was divided between the states of Wei, Wu and Shu. Starting shortly after the end of the Han dynasty, the years that became known as the Three Kingdoms saw young Xian (only eight years old) assume the post of emperor and how he came to be manipulated by a guy named Dong Zhuo, as severe rules imposed by the general drove the population into chaos.
Faced with such an oppressive reign, several commanders of the Chinese army rebelled and it will be up to the player to take control of one of the 12 factions that emerged from this uprising, with the objective being to eliminate rivals in order to unify China and become the great leader. For this we will intersperse turn-based and real-time battles, but despite the first ones being fundamental for success, it was the second ones that I liked the most.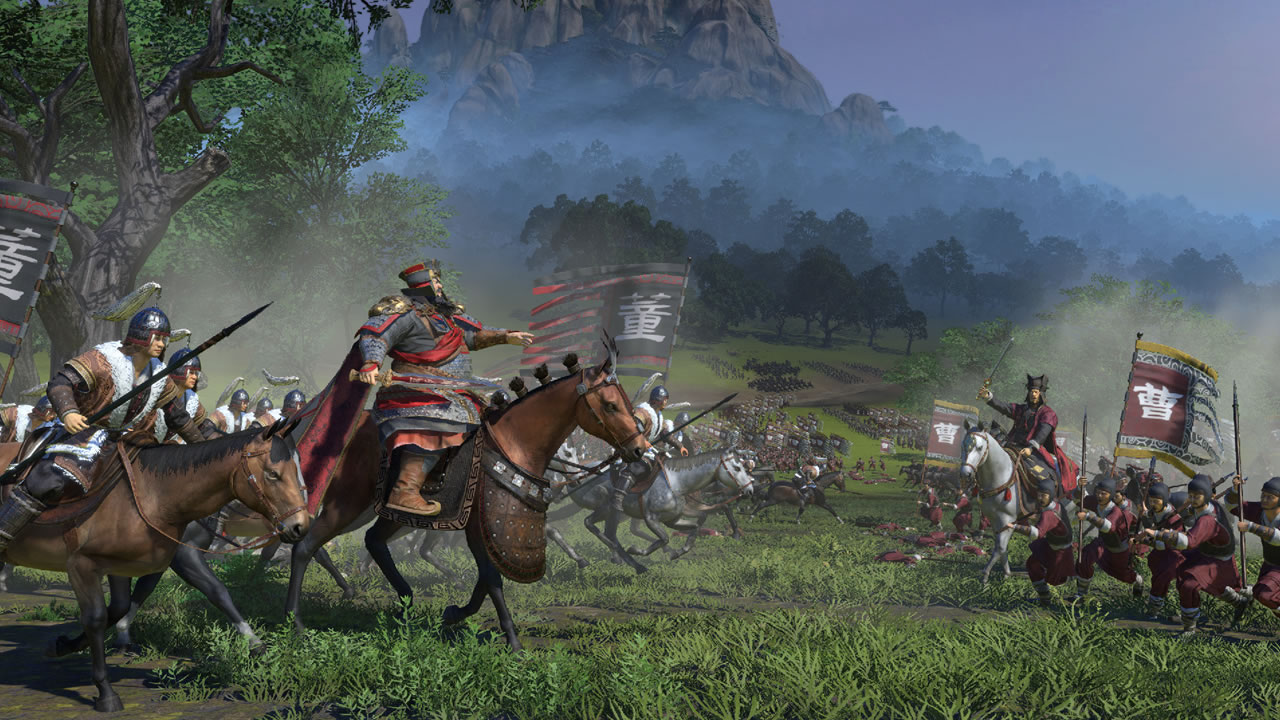 Being in control of more than a hundred units that will face each other across the vast fields present in Total War: Three Kingdoms is one of those experiences that gives us pleasure for enjoying video games. Initially I thought that managing everything would be a very complicated task, but although we get a little lost in bigger confrontations, there is usually time to calculate the next steps and in the last case, just pause the action to decide how to proceed.
A great performance
As this is a game with so much happening on the battlefields at the same time, I was afraid that Total War: Three Kingdoms would get too heavy on my computer. However, it ran without big frame drops, even with all settings turned to maximum.
The loading screens are quite long and to get around this, it is recommended to make the title run directly from an SSD.
Then, when battles start, the player will be in control of groups of soldiers divided by classes (infantry, archers, cavalry, etc), each commanded by a general. Such confrontations can be won if all the opposing generals are defeated or if the enemy troops feel so frightened that they decide to retreat.
In addition, each general belongs to a specific class, which will give certain advantages to their units and because they are such important figures, they have unique items that can be obtained by rivals if these leaders are defeated. They can also get into skirmishes with other generals, which starts a nice fight scene while everything else plays out in the background.
A new addition that should please the more experienced in the Total War series is a system of social connections for generals, something known in China as Guanxi. Thanks to him the generals will be able to relate to other characters and depending on how we manage this proximity, the level of happiness of the leaders will change, which will directly impact the future of the campaign. This adds even more strategy to the game and makes us have to think a lot before making any decisions.
The game still offers us two ways to face the main campaign, which are the Romance and History modes. The difference is that while the first will be based on the Romance of the Three Kingdoms, written by Luo Guanzhong, the second will focus more on historical accuracy. Thus, if in one we have generals with almost superhuman powers, in the other they cannot be commanded separately, they cannot change equipment during battles and the units will tire more quickly.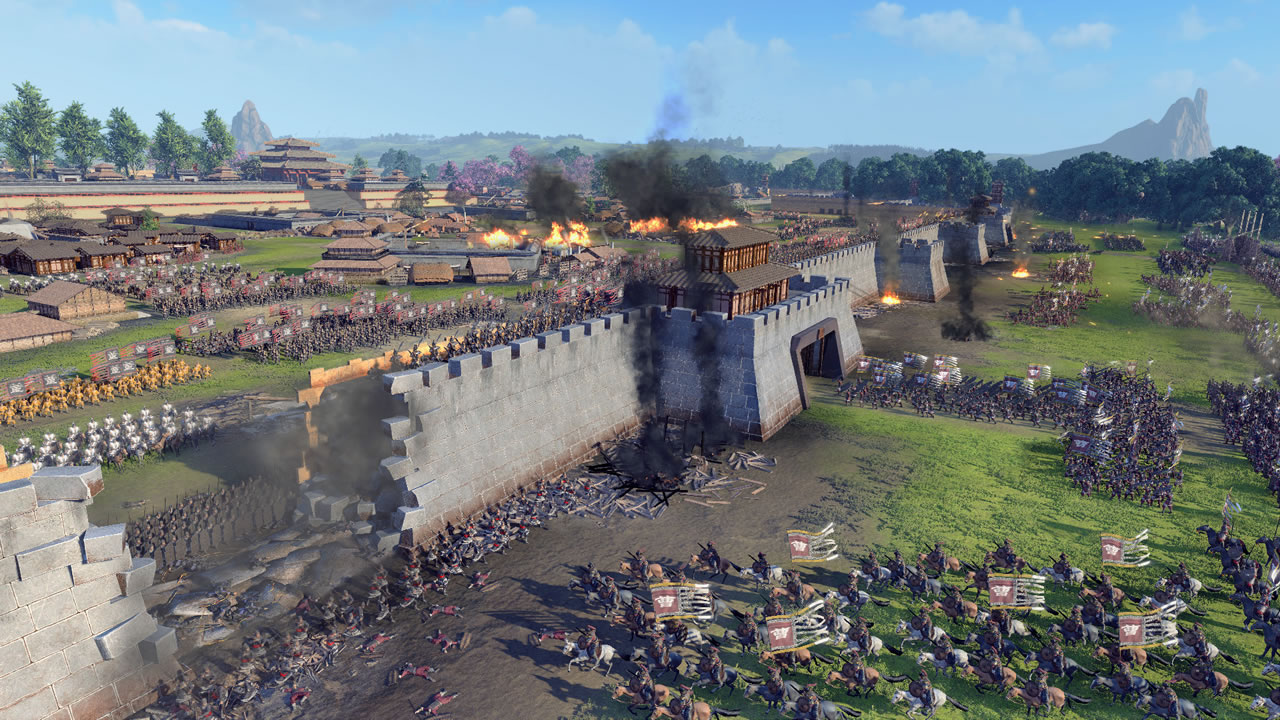 But if during the fights the action happens in a relatively simple way, the same cannot be said for the rest of the game. The amount of stuff going on behind the scenes while we're not following our troops into the field is staggering. From a spy system that has its own menu full of options to how we need to deal with generals' dissatisfaction, the feeling is that we are really trying to manage an empire, with all the details related to such a huge task.
And as in other Total Wars, in Three Kingdoms we will still have to deal with diplomacy and as winning a war of this size alone is practically impossible, knowing when to win the support of other factions is as or even more important than emerging victorious from a siege . The good news is that with this chapter Creative Assembly has made the negotiation more transparent, letting us know immediately what we will have to give in when proposing a union.
Still, there is another option besides non-aggression pacts and alliances, which are coalitions. With them we will be able to form unions that do not mean an infinite partnership and as more than two factions will be able to participate in them, there will be votes to decide, for example, who will be able to join the group.
Now add to all this several factions making decisions at each turn and getting lost between so many events will be something relatively common. In fact, facing a game in the series is something that must be done with patience and knowing that we will make silly mistakes, especially in the beginning. Three Kingdoms even has a gym that, as well as the internal tutorial, aims to help us and although many doubts can be taken from the videos available there, the ideal thing is to learn by playing.
So, rather crudely, I would say that the administrative part of Total War: Three Kingdoms is like using a huge (and very beautiful) Excel spreadsheet. As I've never been much of a fan of numbers, I can't say I've had fun managing my population size (which directly affects the amount of food) or making improvements to city buildings.
This scenario changes when we go into battle and even though it's not enough to simply send our troops forward, with even the personality of the generals influencing, commanding those soldiers in an attempt to survive the opponents' attacks is much cooler than simply watching a movie or series where we follow something like this.
As I'm still starting on this fascinating series, I know I'll have a long way to go before I can say I've mastered the details—if ever that ever will. Until then, I will continue to face smaller sessions of gambling, in an attempt to be able to absorb as much information as possible, but without running the risk of frying my brain.
Along the way, maybe I'll even turn my attention to Total War: Warhammer, as I've heard it's more accessible to newcomers, as well as being a universe that has always fascinated me. Still, I really liked what I saw in Three Kingdoms and if you are looking for a strategy game that puts us in control of almost everything and that will make you "sweat", I think there is no better option than the Total War series.