Games are almost always based on the idea of ​​a hero who emerges to save the world, at most a small group that comes together for that purpose. But when Ubisoft Toronto decided to make Watch Dogs: Legion, they were willing to deliver a new concept: what if instead of having a protagonist, the player could control any character they encounter along the way?
Paper Beast: A (virtual) space odyssey Mortal Shell: Living and dying in Fallgrim
Based on this principle, the game again revolves around DedSec, a group formed by hackers and whose objective is to fight against governments that use ctOS (çentral Operating ssystem). Developed by a company called Blume, this computer network has been used across the planet to control everything from vehicles to drones to every type of electronic device that is part of people's lives.
With its story set in near-future London, Watch Dogs: Legion begins by putting us in control of Dalton Wolfe, a DedSec agent who must go to the Palace of Westminster to defuse bombs that were planted by terrorists. Serving as a tutorial, the mission lasts only a few minutes and culminates in the discovery that the explosives were put there by another hacker group, Zero Day.
Wolfe then discovers that several bombs have been detonated throughout the city, thus starting a new era of chaos. However, in his attempt to find out who is leading the terrorists, the subject ends up being killed and that is where we have contact with what can be considered the main feature of the game.
assembling a team
Several months after the attack, we will be introduced to several people and will have to choose which one to control. With strengths and weaknesses, this will be just the first character that will be at our disposal, as from a given moment we will gain the ability to recruit any resident of London to our team.
As I talked a lot about this aspect back in Meio Bit, I recommend that you take a look at the text, but in a nutshell, this recruiting system has made Watch Dogs: Legion become a collection of several smaller stories, with each person we meet through the streets having a backdrop and thus enabling us to have a certain empathy for them.
However, this paradigm shift ends up making us never feel very close to the characters, with the attachment we have for them being much more due to the abilities they can carry with them. When playing Watch Dogs: Legion, don't expect to create an affectionate bond for your characters, because here the center of the narrative is the cause defended by them and not the members of DedSec.
However, this plurality of characters allows us to have a narrative more adjusted to the gameplay. If you want to play the assassin and invade a building shooting at everyone who moves, to make the onslaught more immersive just choose a member of the group that fits this description. Want to play James Bond and sneak up on a super-trained spy? Such a figure will be roaming the streets of London, so recruit him!
This is the kind of thing that would never be possible in a game with only one protagonist and the WDL is always encouraging us to play the most varied roles, something that I consider one of the main qualities of an electronic game.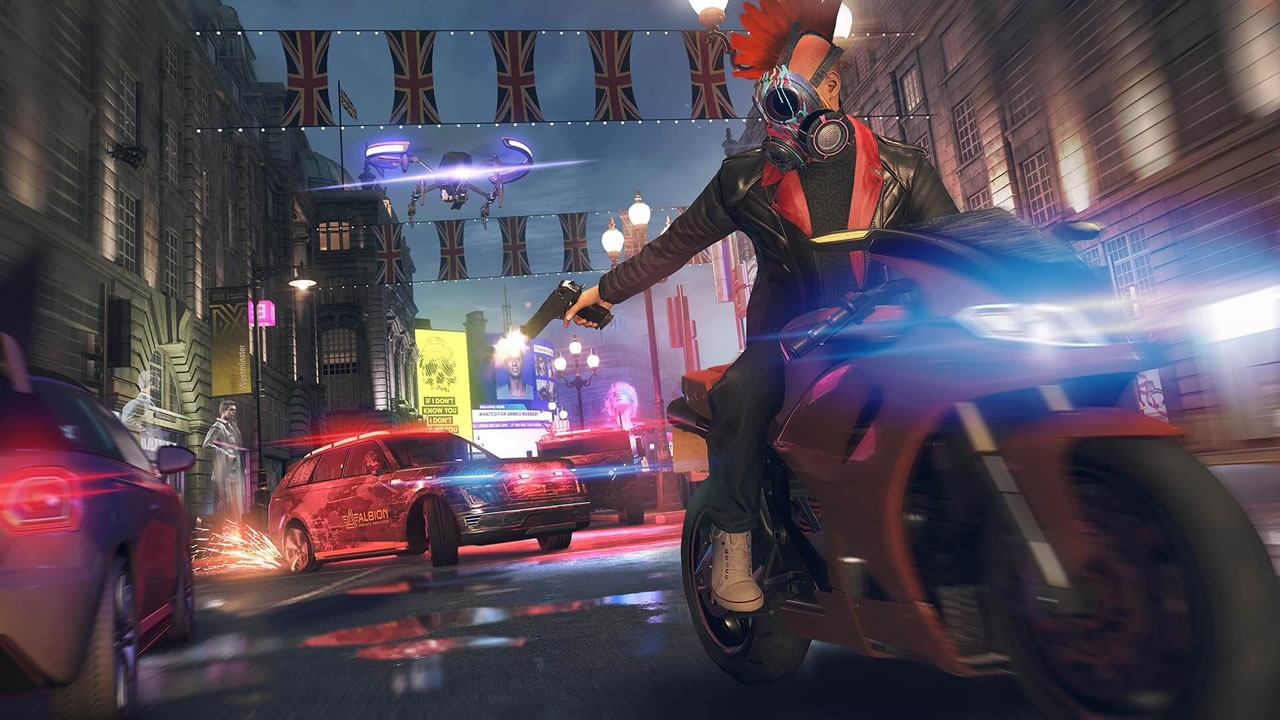 A (technological) game of cat and mouse
But what this freedom of choice has brought the series very good is the way in which the gameplay can be adapted to our style. As we will often have to break into places undetected, having the right tools to do this will be critical and that's why we need to have as diverse a team as possible.
Thus, a police officer will be the best choice to steal some information at a police station, while a doctor will have easy access to a hospital. But obviously none of them will be able to hack into a computer or hack enemy equipment as efficiently as a computer expert.
Knowing which character to use each time is what makes Watch Dogs: Legion so much fun, with many missions running like a huge puzzle and requiring careful, quick thinking, and a lot of thought. Besides, the title even gives us the option to enable a permanent death system and this way, if one of your agents is killed, it can never be used again and if you lose them all, game over!
beautiful but troublesome
Visually Watch Dogs: Legion is a beautiful title, with the city of London boasting a huge amount of detail and always seeming to be alive. The number of people walking the streets is large – just like in any metropolis – and most of these characters have a look, if not unique, reasonably varied.
The problem is that all of this ends up taking a toll and even having played on an Xbox One X, the game's performance is far from pleasant. In addition to large drops in frame rate per second, I have often noticed screen tearing, which is that error where the screen appears to be cut off. Such issues could be reduced or even eliminated if the game allowed us to choose an option that favored performance while sacrificing higher resolution, but that is unfortunately not possible.
Still, these are problems that should only bother people with a keener eye. Even more serious bugs I couldn't detect, except for two times the game just crashed and threw me onto the video game dashboard. The good thing is that since he is constantly saving our progress, I just needed to restart the title.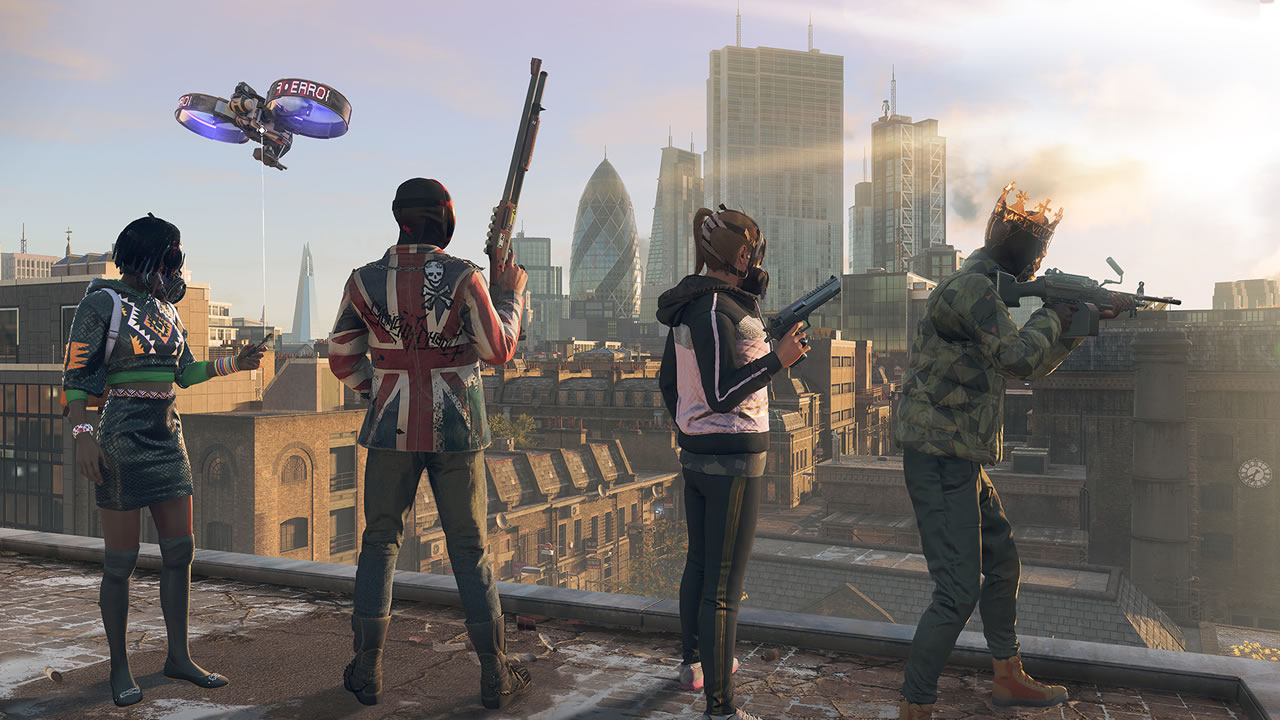 God Save the Queen DedSec
By allowing us that any character present in the game can be controlled, with Watch Dogs: Legion Ubisoft managed to deliver the best chapter of the series. Speaking of citizen monitoring, data security and hacking, the feeling I had after playing this third game is that this possibility of turning anyone into a protagonist is something that should have been used from the beginning, but I understand that this idea on the part of those involved in creation has only matured with time.
Perhaps the problem here is how the franchise can take this concept forward. Going back to a main character will inevitably be treated as a setback by fans and continuing to grant control over anyone else may sound like more of the same. However, this is an impasse that we players will only have to worry about in the future, and until then, it will be fun to continue looking for that perfect group of characters.