If there's one thing we can't say about Bugbear Entertainment, it's that they give up easy. Wanting to give life to a new racing game that was treated as a Next Car Game, they first tried to raise the necessary amount in a campaign on their website, only to later resort to Kickstarter and fail. It didn't seem like the project would go any further, but the studio took advantage of Steam's Early Access program and over $1 million was made in just one week.
The value would allow the developer to at least continue production, with sales increasing over time and the project evolving, but that's when things started to get weird.
With the pace of development moving very slowly, the players started to get irritated and even internally the production started to displease the team. Problems mainly in the game's physics system made it seem that the project was at a standstill and some even started to think that the game — which adopted the name Wreckfest — would never receive a final version.
Behold, to the surprise of unbelievers, recently the title lost its Early Access status on Steam and although I still haven't been able to dedicate much to it, the impression is that so much time in development ended up not helping the game much.
It's not that Wreckfest is a bad game. Visually it is interesting, the car destruction system is impressive and the tracks are very detailed. However, all the visual splendor that the Next Car Game showed five years ago today is no longer able to surpass current games and the highlight ends up being the way the vehicles fall apart.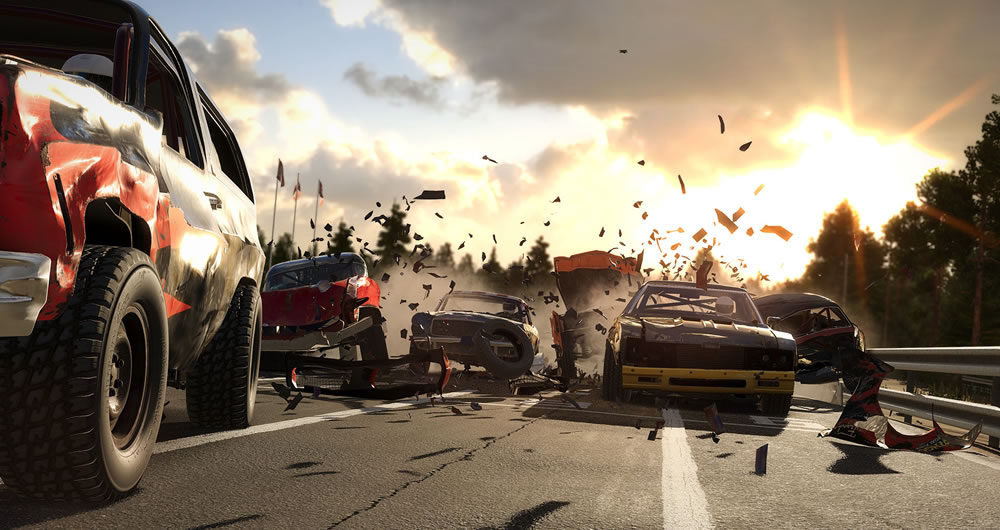 As for gameplay, Wreckfest draws heavily on classics like FlatOut (Bugbear's own) and Destruction Derby. This means that destruction will be a fundamental part of the races, as even during "normal" races, we will always be encouraged to beat our opponents to get ahead.
However, it is in demolition derbie mode that the game shines most. In it we will be played in an arena with several other pilots and there the objective will be to try to emerge as the last "survivor". Knowing when to attack and when to defend will be critical in these disputes and the level of tension we feel as our car is destroyed is something really cool.
Still, it's hard not to feel like the studio has invested too much time in creating the ROMU engine and forgotten about the game itself, at least when it comes to the single-player. It seems like Wreckfest is always striving to be fun, but never realizing its full potential.
So if you're not expecting a racing game full of depth, love watching cars wreck or looking for something to have fun with friends, Wreckfest is a good choice. It could have been better, but it's still a title that manages to deliver some fun.
Now available for PC, Wreckfest is expected to be released in November this year for PlayStation 4 and Xbox One.